Patrizia Sandretto Re Rebaudengo
That art is a great passion for her, can be seen on her face every time she talks about it.
Her eyes shine when she talks about how she grew up among paintings and objects of ancient art, inheriting a propensity for collecting from her mother that almost naturally propelled her towards the universe of contemporary art. And so it was that from the early nineties Patrizia Sandretto Re Rebaudengo began to independently explore this universe through countless trips, frequent visits to prestigious museums and increasingly frequent encounters with famous contemporary artists from whom she soon began buying her first paintings.
However, her mother continued to support her, encouraging her to create a prestigious collection of American Costume Jewelry, destined to become a "treasure" of over 1,000 pieces of precious and very rare costume jewelry, able to retrace the history of creative American craftsmanship in the twentieth century.
Without being afraid to use innovative materials which, in this context, North American high-end jewelry-making chose to give shape to new objects of fantasy: from vulcanized rubber to celluloid, from Bakelite to Plexiglas, up to the increasingly pervasive acrylic.
Thus, for Patrizia, collecting contemporary art became an opportunity to enjoy wonderful experiences. Then in 1992 she arrived in the London of the Young British Artists. A city that immediately fascinated her, disclosing the innovative worlds of the Lisson Gallery and the White Cube and putting her in contact with museum curators and directors of the caliber of Iwona Blazwick, Julia Peyton Jones, and most importantly, Nicholas Serota, the latter destined to significantly influence her way of understanding collecting.
«Coming directly into contact with these characters – says Patrizia – led me to reflect on how contemporary art and its gaze on the world around us helps us to live in our time with greater awareness and to acquire a more critical vision of what happens.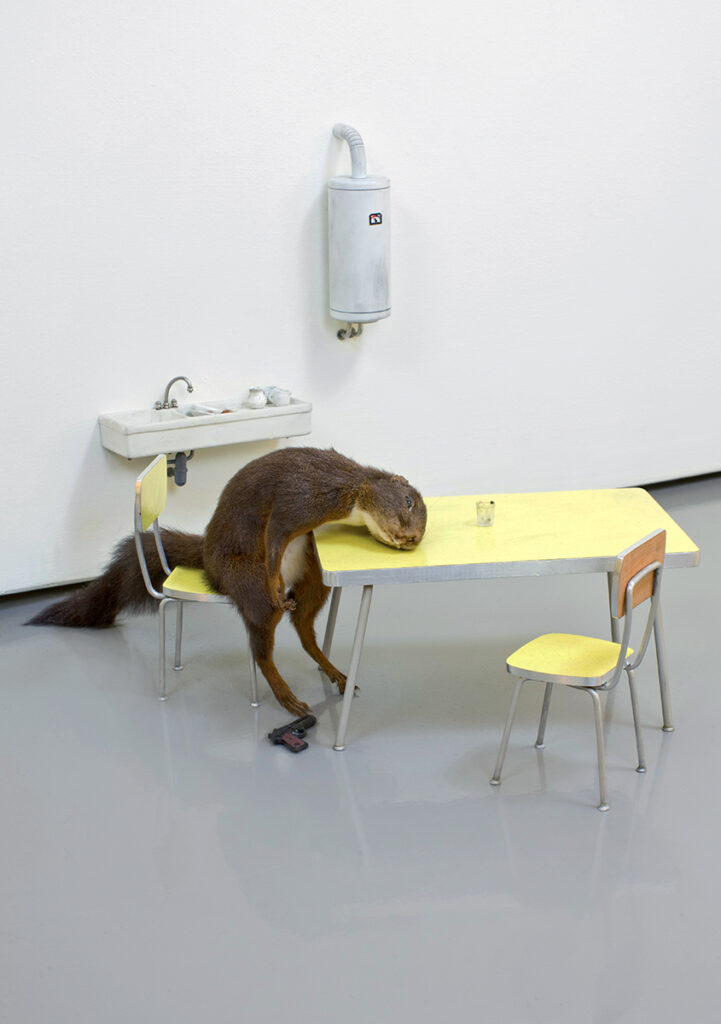 I have never considered contemporary works of art as a piece of furniture or a way to decorate my home. Instead, I have always looked with interest at the political and social dimensions that they encompass.
Collecting, in this sense, is a bit like exploring, gradually drawing your own map of the world. In my research I have never paid attention to acquiring works only by already prominent artists; I have never been interested in the big names, but I have always looked at the work itself, focusing on its quality, its precision relative to the moment in which it has been produced».
At this point a new concept of collecting took shape in her mind: «A contemporary work of art must be able to represent the present, anticipate the future and, in the future, tell a story of the past. For me it has always been important to create a relationship with the artist before buying one of his works, to understand the development of his work: this is why I am interested in maintaining a stable and lasting relationship with each one of them, participating where possible in the production of new works. With precisely this in mind, starting in the 90s, I decided to launch the Sandretto Re Rebaudengo Foundation, created with a very specific reason: to give to my city and my fellow citizens, while at the same time supporting and helping young artists, a center of modern and interdisciplinary contemporary art, capable of becoming not only a venue for exhibitions, but above all a meeting point open to the many facets of contemporary culture».
The Foundation's venture, which will be launched from its historical headquarters in Guarene d'Alba, will nevertheless have its beating heart in Turin, in the San Paolo district, with an exhibition center of 3,500 square meters. Designed by the architect Claudio Silvestrin, the center is divided into an exhibition space, a project room for video installations, a teaching room, a bookshop and a café / restaurant – Spazio7 – currently managed by her son Emilio and which has become a point of reference for excellent food in the subalpine capital. In these spaces, wrapped in elegant minimalism, exhibitions, meetings, conferences, educational activities, Sundays at the museum for families and many other initiatives aimed at making contemporary art known and appreciated are organized.
For the Foundation, however, Turin is perhaps becoming too narrow. Hence the creation of the project, destined to become reality sometime in 2019, to open a Spanish branch of the Fundacion Sandretto Re Rebaudengo at the Matadero in Madrid. The goal is to create a sort of bridge capable of opening up the experience gained in 23 years of work at the Turin branch of the Foundation to the Latin American culture. Madrid will thus be an exhibition center dedicated to research and production of new exhibitions and works, thanks to spaces dedicated to the educational department, cultural mediation, specialist training and residences for artists and curators.
That of the Foundation is an increasingly complex universe, with the parallel universe of Italian bubbles as its sparkling background: those bubbles of the sparkling wine that accompanied its beginning in Guarene; those that toasted Patrizia's fifty years at the surprise party, with its exhibition, organized by her husband and his collaborators in the same spaces of the Turin Center; those of the inauguration, in 2014, of the exhibition of her "Fantasia Jewels" at the Cà d'Oro in Venice; finally those that her son Emilio, in the Spazio7 restaurant, offers his customers to bring tastings and special events to life. «Wine tells a story and I believe that knowing how to combine the right wine with each dish is fundamental. A wrong combination can ruin the most successful dish, while the right wine can complement and enhance the flavors of each course». In wine, as in art, Patrizia is guided by an extraordinary curiosity. One which is able, in both worlds, to open her up to new approaches and new experiences which are capable of projecting her beyond the ephemeral fashions of the moment.
Photo courtesy of Patrizia Sandretto Re Rebaudengo