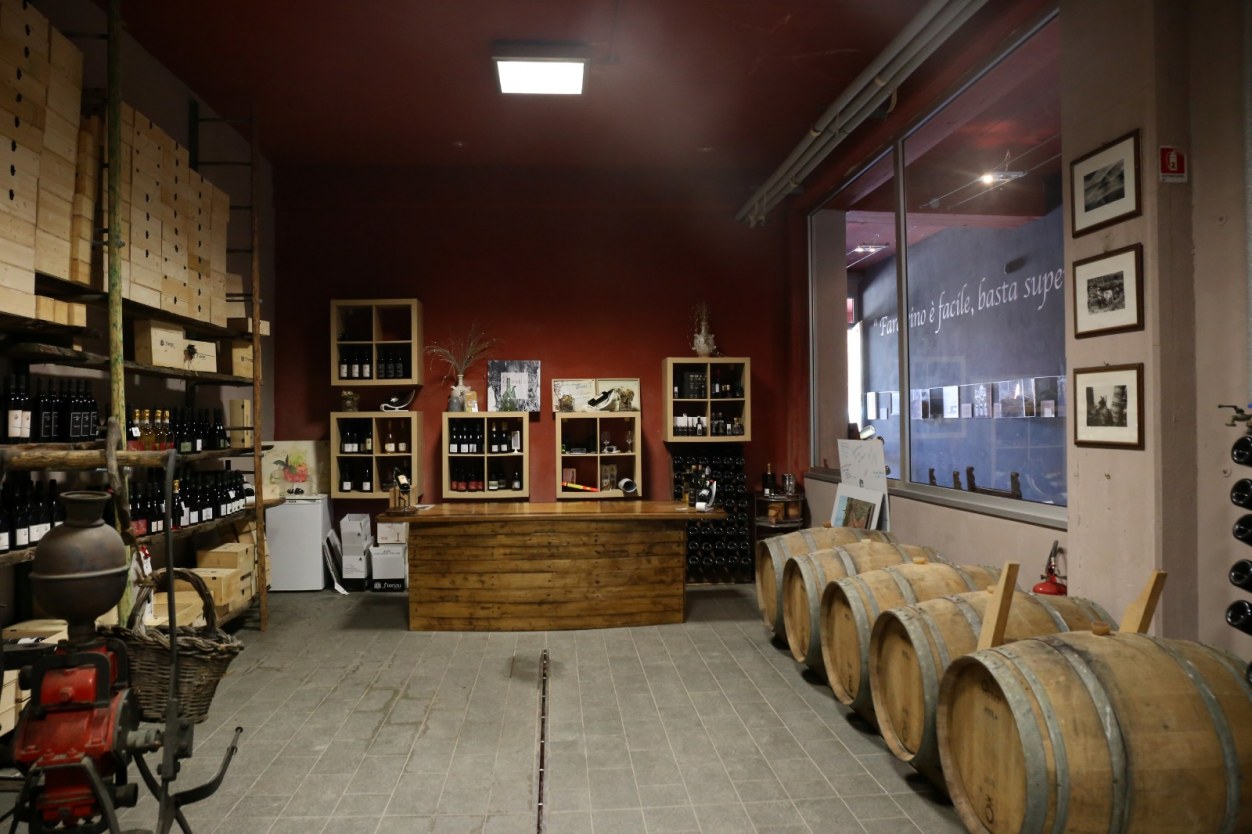 Fiorini – A gaze beyond Lambrusco
Border land, lands in which the accent changes and the western Bolognese (from Bologna) is replaced by the first hints of the Modenese (from Modena). If you are heading west. In these very lands, in the past, people fought and went to war: modenesi vs. bolognesi. Here, another distinction is marked between Colli Bolognesi Pignoletto DOCG, Lambrusco Grasparossa of Castelvetro DOC and Reno DOP. Actually, there is an overlapping: on the first hill, three different ways of making wine can be breathed.
However, taking a step back, let us understand where we are first.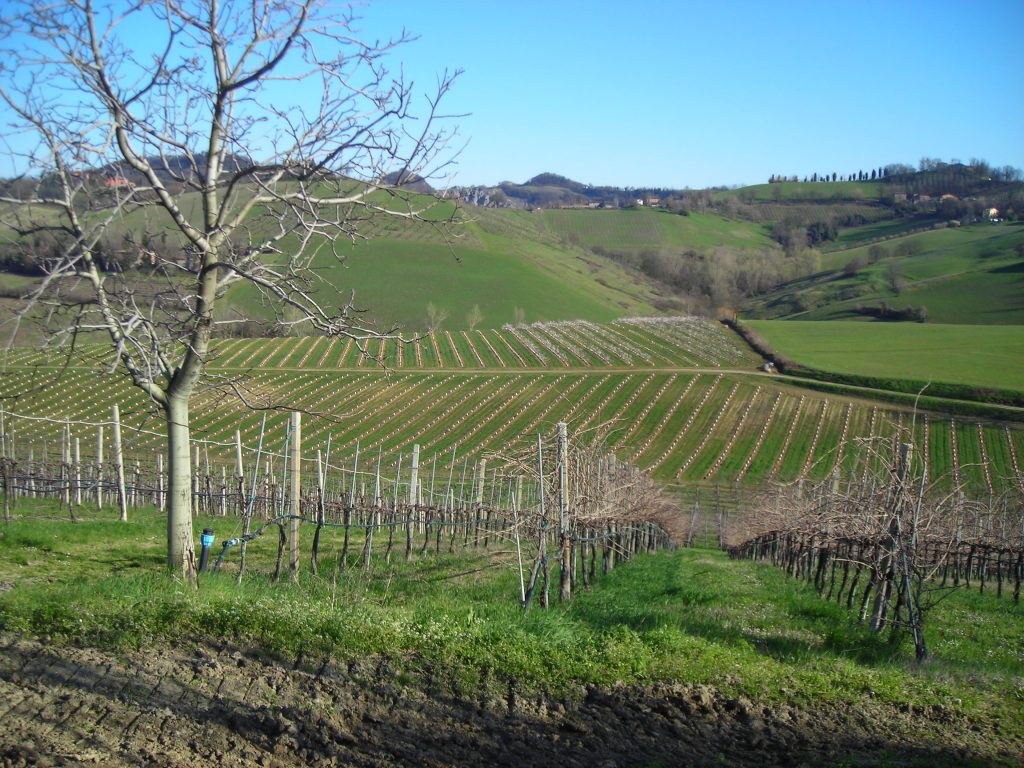 We are in Savignano sul Panaro, extreme eastern border in the province of Modena, little halfmoon between level ground and little hill. Right from these places, people from the Bronze Age looked at sunrises and sunsets, they hunted in these woods as well as the Etruscans and the Romans did.
However, there have been testimonies which have been following uninterrupted since the IX century until the present day: the famous Castello di Savignano went through bishops, kings, noblemen and powerful gentlemen of big families. But, besides history and prehistory, in the 80s it was found a skeleton of a Pliocene elephant more than 2-billion-year-old. Saviano and his agricultural and woods surroundings enclose interesting hiking spots and beautiful landscapes. After all, the discovery of old civilization relics and evidence indicates that this location has been known for a long time. If ancient man stabilized in specific places, it was because they could benefit from them, not only in terms of military-strategic benefits, but also in terms of exploitation of rich fields and closeness to river flows that could be used as means of communication.
During the centuries, the hilly woods and the marshlands from the ground levels have slowly left space to cultivations and rows, fields and orchards; these areas of the Parmigiano Reggiano, of the Prosciutto from Modena, of the cherry from Vignola, of the tortellini and a thousand more excellences.
At the ground level there are small companies and willing artisans that contribute to give ardor and strength to the "Motor Valley" and to the "Packaging Valley", this is a pride of a technological know-how enclosed into the Emilia-Romagna region.
In every border land, even if now it is not like it used to be, the comparison has always been forging, but not always constructive.
During the past, the border lands have been a place of skirmishes, wars and violence but now, luckily, it is not like this anymore and the confrontations are done in bars, maybe debating on soccer and car races and telling somebody to buzz off in their own dialect but always sharing a great glass of wine. Red? White? Still? Sparkling?
Rows of vines, a lot of them, may be found in these magnificent places among flat ground, woodlands, fogs, bell towers, industries, farms, and plowed fields!
Right in Savignano sul Panaro there is, in fact, Poderi Fiorini, a company that produces excellent wines with their own philosophy: they belong to traditional productions typical of the Colli Bolognesi and of the Colline Modenesi.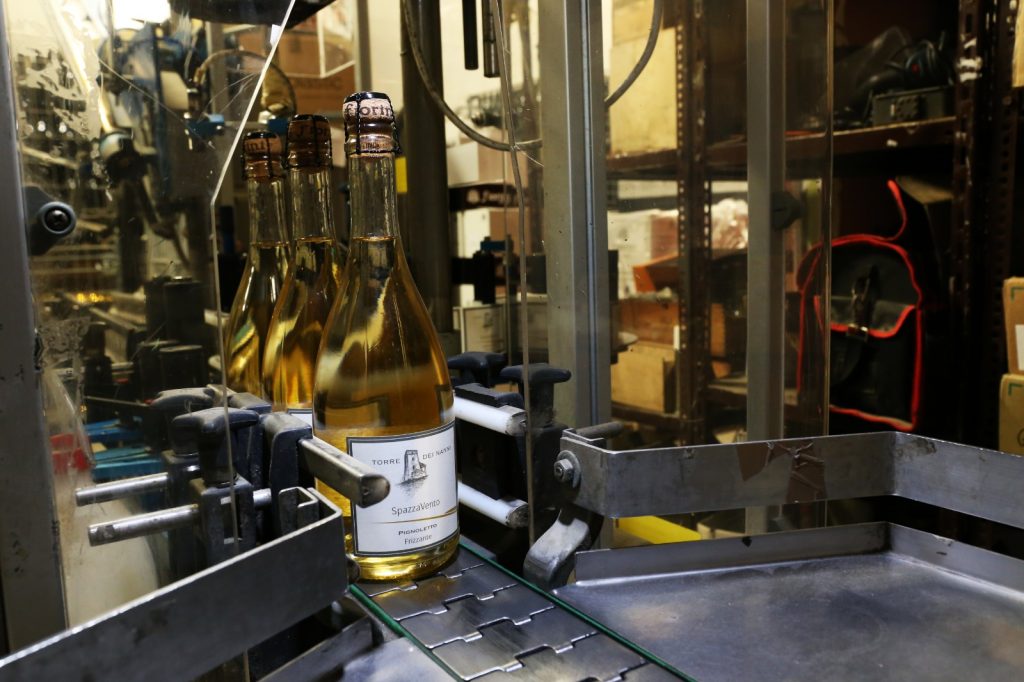 I am not here by chance: I took effort in looking for a wine grower that could answer to certain characteristics. The growing awareness to safeguard the good health of the vineyards, of the men that work in them, but also of the entire working process and the process of transformation of grapes in to wine. The Poderi Fiorini company has undertaken a path through the conversion into biological vineyards and cellars and in 2019 the company obtained the ICEA biological certification.
It's a Sunday afternoon in winter, and the horizon, which is made up of gentle, sinuous waves and dark, naked trees, is colored by a crimson sunset.
Alberto Fiorini, co-owner of the company, together with its sister Cristina, a great promoter passionate about their products, warmly welcome me and guide me through the vineyards in the first 12 hills, then we go into the cellar and Alberto tells me his family's history which have been producing wine for 100 years now.
Giuseppe, the grandad, started working in Ganaceto, between Modena, Campogalliano and Solera, where he produced with passion the Lambrusco of Modena.
Alberto and Cristina follow and continue with extreme competence the productions which divide in two brands: Centofiorini to celebrate 100 years of the company, which belongs to the traditional productions of Lambrusco, and Torre dei Nanni, which, on the other hand, is the reference point for the production of wines from Colli Bolognesi. The strategic position and the high-quality lands allow Alberto and Cristina to obtain a production tied to tradition but always paying attention to investments, both to better the quality and to take a look at the future.
It is always interesting to listen and to enter in empathy with a careful and scrupulous wine producer: it is like being a caretaker of unique and unrepeatable stories like the vintage published on the etiquettes in the bottles. Have you ever met a wine maker who is not passionate about their job?
Alberto accompanies me in the cellar and in front of a table we open some sample of its production going here and there, from wine from Modena to wines from Bologna.
Starting from a Colli Bolognesi DOCG Spazzavento, a beautiful bottle that fully expresses the characteristics of the Grechetto Gentile that grows in these rich territories with 40-yaer-old installations, intense straw yellow color, on the nose it has a range of aromas that goes from the white peach, to the grapefruit to the cedar's peel, pineapple and memoirs of exotic fruits.
The sip, fresh and direct, rightly sapid, ends with almonds and citrus. Shall we pair it with an aperitif of typical salami? Or with with a bowl of humble and genuine imperial soup, typical of Bologna? Or with a second course of fish that is not too structured?
The following glass is colored by Alberto of a beautiful, intense coral pink and the light and thin bubbles play with light making it all very curious.
Corte degli Attimi is a Lambrusco of Sorbara DOP, which is not chromatically intense, vinificated in pink but on the nose, there are reminiscences of strawberries, raspberries which persists while on the palate it is pleasant, agile, intriguing, sufficiently intense and acid. It goes straight and it invites to another sip. It is an interesting bottle to pair with typical salami and fresh cheese, but I would see it being perfect with fried fish and shellfish.
Between one laugh and a pearl of wisdom we finish the afternoon with a wine that encloses the essence of the Lambrusco, Il Puro, Lambrusco from Modena DOC that collects all the results of the BIO choices both in the vineyards and in the cellar. Here, the essence of the three main Lambrusco from Modena can be found, typical aromas and persuasive berries, cherries, mature prunes. On the sip it is important, almost aristocratic, a wisely dosed tannin accompanies the balanced freshness, a beautiful bone but quick, direct, without frills. It can be paired with red meat, also fat meat, braised and aged cheeses. I paired it with a pork loin roll containing Modena ham and 24-month Parmigiano Reggiano, on the plate a grating of dark chocolate. Amazing!
The evening became dark and I went to say goodbye to Alberto who was already looking at the day after… and even beyond that. We fill up some boxes with the wines that we tasted together and some other excellent bottles like Le Ghiarelle Lambrusco dell'Emilia IGT. A true and rare treasure: in the company's third small farm, inside the Panaro river, some 100-year-old vineyards with no rootstock were found. Thanks to the collaboration with agronomists and scholars, the vineyards were found and analyzed and it is declared that they are an ensemble of Lambrusco of Sorbara, Fioriano, Barbera, ancient Grasparossa vineyards and some marvelous plants yet to be identified. This bottle I will open in solitude, to try and understand it better, while I prepare myself a Lambrusco roasted and think about warming myself up with wines during the winter which is still very long.
---
Article by: Alessio Atti