La Guardiense: a chat with Domizio Pigna
Today we make wine, but you should know that this territory has always been used for agricultural production of various kinds. And in fact, Sannio today represents 50% of the vineyard and wine production for the whole of Campania. A richness of culture and cultivation that has given countless small entrepreneurs the opportunity to create an organized and important economic-social fabric, of which our Cooperative is certainly one of the most significant expressions. This is what makes us unique, allowing us to maintain that good balance even today, sharing with our partners the sustainable projects that we are gradually putting into action.
We are in Sannio, a land that still contains infinite mystery and beauty; an area that is unique for both its landscape and for all the history that surrounds it.
A piece of Italy that has maintained an extraordinary cultural identity which is evident in every aspect. It is good to make a distinction, out of respect for the many diverse populations in Campania, reminding those unfamiliar with this habitat, that the Benevento people have nothing to do with other people of their region; they are a "colony" in their own right, a proud ethnic group capable of keeping alive that distinction that comes from a distant past and translates into a present that can be discovered only by shaking the hand of those with dirty nails, descended from the mysterious people that were the Samnites.
They are simple, real, resolute, tenacious people, united by a profound spirit of belonging that often overflows into loyal support for the close community that surrounds them.
This happened 2,400 years ago in those Samnite communities that gave more importance to group ties than to economic personalism; an unimaginable and inconceivable policy even today, but which here still has value, among these rather rough lands, engraved by valleys and dotted with reliefs, where numerous rivers and streams meander.
There are two mountain ranges that cross it: the Matese and the Taburno, as well as some of their offshoots, including the Calore basin. I find the essence of all this at the La Guardiense Cooperative, one of the largest in Italy, located in Santa Lucia di Guardia Sanframondi, in the province of Benevento, where I am always happy to return to rediscover the spirit that I have tried to describe above.
A corner located in Campania, wedged between the Matese Mountains which separate it from Molise, and the Taburno which divides it from Naples, from here we depart for charming itineraries that cross the Apennines towards Molise or "Le Puglie".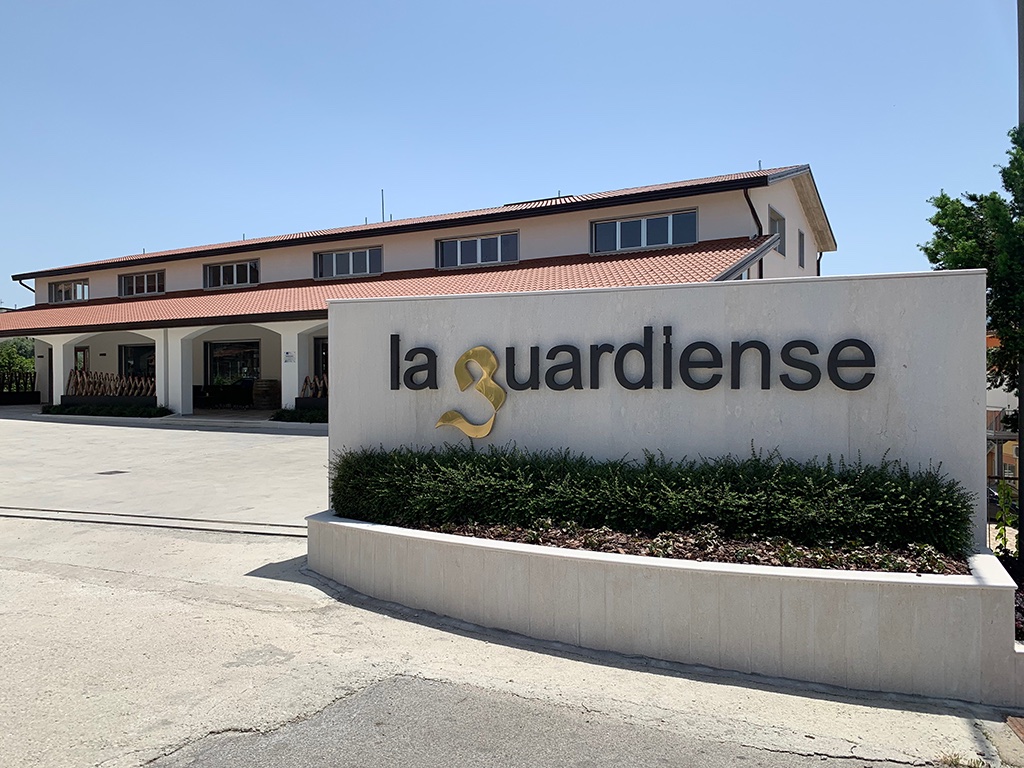 The inhabitants of Guardia are descended from the Samnites, tireless and tenacious winegrowers, who cultivate vines and olives with excellent results here. And it is in this evocative landscape that I meet Domizio Pigna once again, from whom I try to extract an idea of the experiences that life has given him as president of this cooperative since 1997.
You see, I come from a family of winemakers who are actively involved in the everyday running of this company and before becoming its president, I too was an employee for about 13 years. By staying close to the "founding fathers" of the winery, I have learned the fundamental values not only of cooperation, but also of sacrifice and dedication to work.
Those same ones that I try to pass on to the younger generations.
Today we make wine, but you should know that this territory has always been used for agricultural production of various kinds. A richness of culture and cultivation that has given countless small entrepreneurs the opportunity to create an organized and important economic-social fabric, of which our Cooperative is certainly one of the most significant expressions. Over the centuries, everyone has contributed and influenced the hydro-geomorphological aspect of this area, and all with the objective of seeking the right balance between environment and production needs. This is what makes us unique today, allowing us to maintain that equilibrium of the past that is still important.
We have obtained this result because we know how to share sustainable projects with our members that we then implement together, creating a relationship of mutual trust between the parties, which is fundamental to giving value to what unites man and earth.
In this way we have made work the central point of company choices and policies.
The strategic and productive desire to focus on a grape variety like Falanghina was also planned, knowing that we could rely on the unique pedoclimatic aspects and conditions.
It was a long process, starting from a reality that can be defined as prehistoric in wine terms, as it was in the seventies, when the Falanghina as a fruit was unable to express its many characteristics owing to the climatic factor and agronomic techniques used at that time that limited its potential.
Climate change and the increase in the application of technical-scientific aspects have allowed us to raise the quality level of the production process in the space of twenty years, and the markets have also noticed this result.
In doing so, the Cooperative, being the largest production entity in Sannio and in the whole of Campania, has gradually taken on a role of viticultural system leader, which has also resulted in the establishment of the Sannio Protection Consortium. Grouped around this is the fragmentation of a micro production sector that otherwise would not have had commercial opportunities and that is now giving tangible assistance to pursue cohesive and shared territorial policies. This is a further strong point, which can be added to ours, of which there are substantially three: the 1000 contributing members; the more than 1500 hectares of historic vines that those member winemakers cultivate with passion, care and determination; and finally, the continuity in the company management which has seen only three Presidents at the helm of the Cooperative in the more than sixty years of its history.
Beyond its unusual nature, this is a condition that demonstrates that over the years we have been able to give life to a system that takes into account numbers and consciences, focusing on concrete objectives and strategies that allow us to overcome the differences that sometimes can arise. These are beautiful words that however have a foundation, since they are based on substantial things, such as that of showcasing the products giving greatest satisfaction every year, and a fair remuneration to the work done by the members themselves. With this in mind, it is necessary to pursue the promotion of Sannio, which, very importantly, represents 50% of the vineyards and wine production for the whole of Campania. It is therefore essential to make this territory even more accessible to attentive tourism, one that appreciates its value and its excellence in food and wine, landscape and culture.
To do this we need everyone: wineries and oil producers, trade associations, the University and the Chamber of Commerce, together with the supporting action of local and regional authorities. This is the "Rubicon" that we must cross, imposing strategic choices that leave no room for improvisation. We will certainly go beyond the "Rubicon", and this confidence is strengthened by the results our wines have obtained in terms of sales and the numerous and prestigious awards received. In this evolution Falanghina assumes a decisive role precisely because of its eclecticism in knowing how to adapt to the multiple ways of producing wine from its fruits, such as making sparkling wines with both the Classic Method and the Italian Method. Ours is an extremely "market oriented winery" and therefore also highly sensitive to the market trends and demands. And if we have always tried to combine respect for tradition and the innovations that the markets suggest to us, the card we are now about to play is the sustainability of our products for which we already have important certifications.
Therefore, it will soon be possible to appreciate our first labels: organic Falanghina and Aglianico "made in La Guardiense". We'll talk about our other projects next time you visit me.