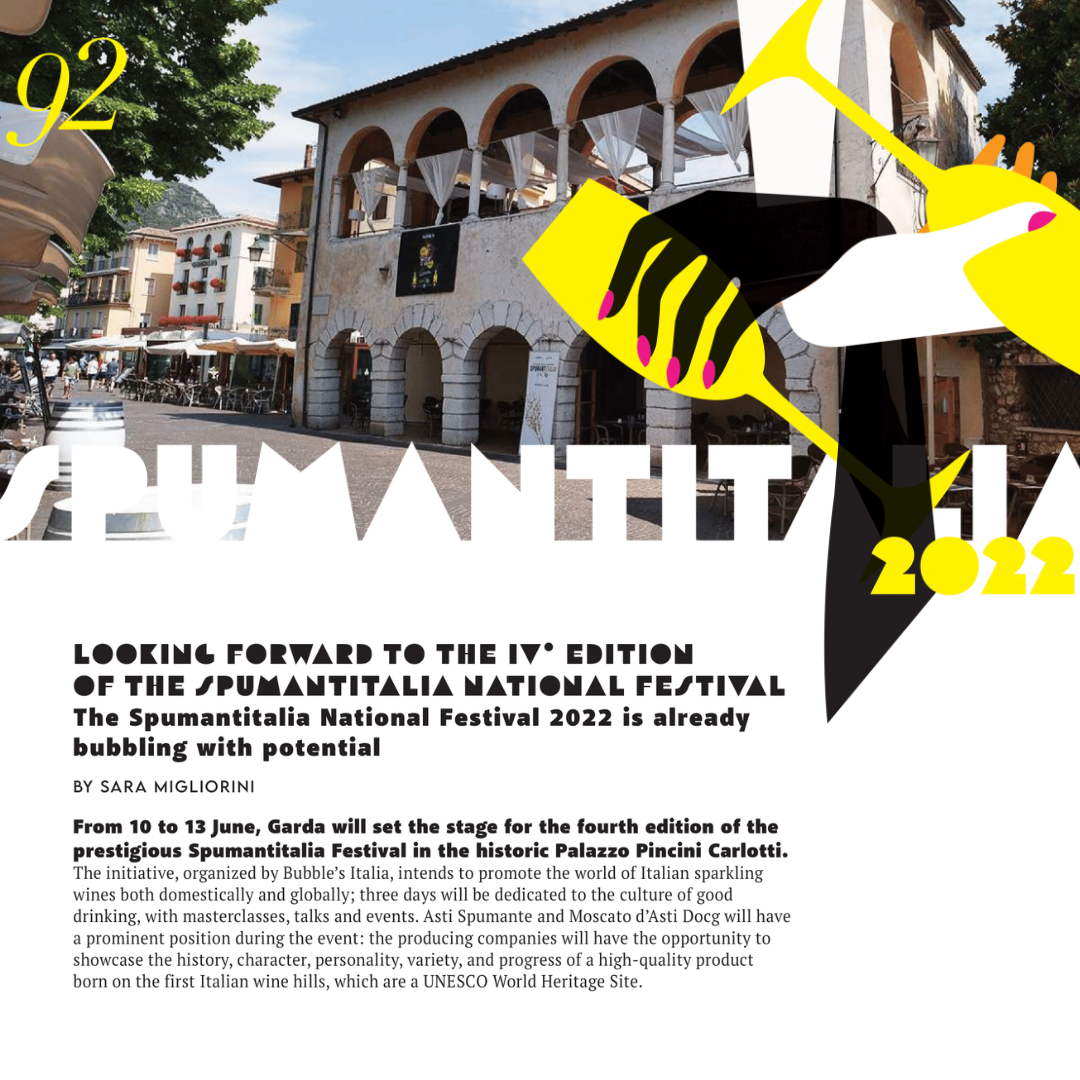 Looking forward to the IV edition of the SpumantItalia National Festival
The Spumantitalia National Festival 2022 is already bubbling with potential.
By Sara Migliorini
---
From 10 to 13 June, Garda will set the stage for the fourth edition of the prestigious Spumantitalia Festival in the historic Palazzo Pincini Carlotti.
The initiative, organized by Bubble's Italia, intends to promote the world of Italian sparkling wines both domestically and globally; three days will be dedicated to the culture of good drinking, with masterclasses, talks and events. Asti Spumante and Moscato d'Asti Docg will have a prominent position during the event: the producing companies will have the opportunity to showcase the history, character, personality, variety, and progress of a high-quality product born on the first Italian wine hills, which are a UNESCO World Heritage Site.
Cultural gatherings, tastings, recreational experiences, sampling counters, and segments dedicated to B2B are all part of this significant aggregation moment.
But who will be the stars of this year's edition?
This year's protagonists are Italian wine cooperatives that are taking tangible steps to establish a framework for the global growth and promotion of Italian wine. Those consortia that, by territorial vocation, are placed as reference points for the whole sector.
Likewise, Spumantitalia strives to give a voice to the companies that have something to say but don't have a voice yet, and are in the process of defining their production areas' particular vocation.
The Festival will bring together the interpreters of the world of wine's cultural, technological, and scientific systems to discuss the opportunities, advances, and challenges they face.
Others who will play crucial roles include catering, hotel, and wine industry specialists, as well as individuals who, more than others, have grasped how this fascinating world is garnering an unanticipated following.
They're all bubble enthusiasts who want to share their expertise, passion, and perspective on the sector with others.
They are individuals who consider the SpumantItalia National Festival as a reference point and wish to learn more about the role that Italian sparkling wine plays on a national and worldwide scale.
Spumantitalia welcomes sparkling wine producers, DOCG and DOC cooperatives, wine technologists, sommeliers, journalists, institutions, associations, and wine enthusiasts.
Stay tuned for more information on www.spumantitalia.it.