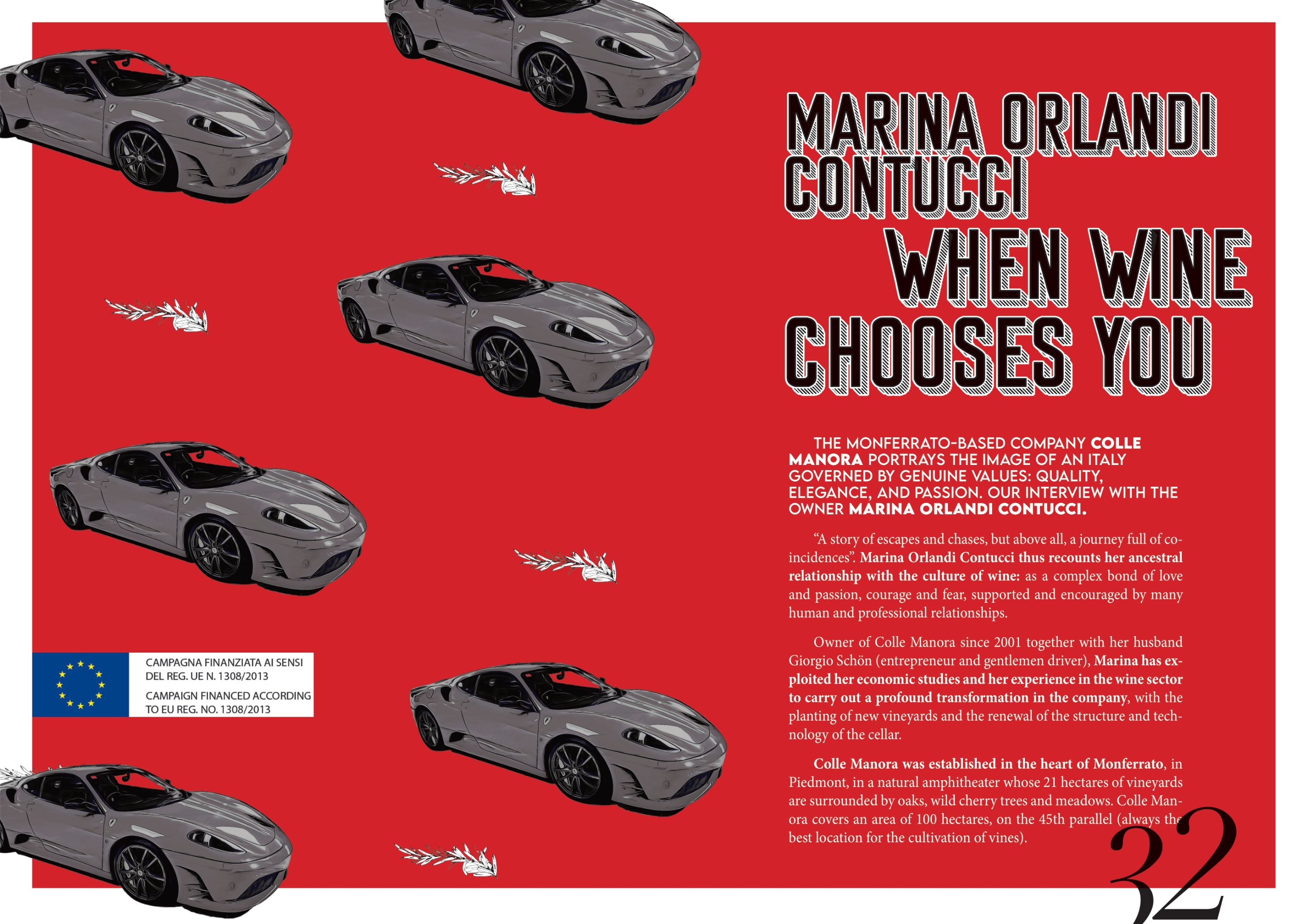 Marina Orlandi Contucci: when wine chooses you
"A story of escapes and chases, but above all, a journey full of coincidences". Marina Orlandi Contucci thus recounts her ancestral relationship with the culture of wine: as a complex bond of love and passion, courage and fear, supported and encouraged by many human and professional relationships.
Owner of Colle Manora since 2001 together with her husband Giorgio Schön (entrepreneur and gentlemen driver), Marina has exploited her economic studies and her experience in the wine sector to carry out a profound transformation in the company, with the planting of new vineyards and the renewal of the structure and technology of the cellar.
Colle Manora was established in the heart of Monferrato, in Piedmont, in a natural amphitheater whose 21 hectares of vineyards are surrounded by oaks, wild cherry trees and meadows. Colle Manora covers an area of 100 hectares, on the 45th parallel (always the best location for the cultivation of vines). Of the various farmhouses that are located within the property and which name some of the vineyards, it is the old farmhouse from the 19th century – Manora, which represents the company itself.
The perfect geometry of the vineyards and their "cleanliness" tell the production philosophy of Colle Manora: profoundly native vines and others elegantly international, which represent a true synthesis of Made in Italy values: Quality, Elegance, Passion.
Introduce us to the world of Colle Manora: what can you tell us about the origins of the company and your personal bond with the wines?
Colle Manora came into my life through a chance meeting with Giorgio (Schön, ed) and has a history that we could define as romantic, if you like. Its origins are strongly rooted in my past experiences, family history, and personal experiences: in fact, I have come to believe that agriculture in the broadest sense, and wine later on, are part of my DNA. Agricultural properties have always been part of the history of my family of origin. When you grow up in contact with the agricultural and wine world, you absorb it and learn everything from the experience you live, without being aware of it.
Nonetheless, my choices about university studies were made regardless of this context.
The thread that united me to agriculture and viticulture worked subtly: my first husband took care of his farm and, later, the financial company for which I then started working in Milan (coincidentally!) owned a winery in Montalcino that I followed in those years. There were so many random coincidences… it was as if the wine was chasing me.
So we could say that the wine world chose you rather than the other way around.
This is exactly what makes it so funny: even though I wasn't seeking for it, wine seemed to be calling to me and it eventually pinned me down, saying: "Now it's your turn".
Following my mother's death, I took over the family business, choosing to quit my job.
It was the meeting with Donato Lanati in 1992 that changed my life; Donato helped me transform the property (which, until then, gave the grapes to a social cellar) into a real winery, building its brand. Later, he invited me to a course in Alessandria where I met Giorgio and the Colle Manora adventure began.
The company, almost abandoned, had been left by the heirs of the previous property in the hands of an administrator for six years. It survived thanks to the affection and dedication of Valter Piccinino, who is still the Cellar Manager.
Colle Manora has its native vines (Barbera d'Asti, Barbera del Monferrato, Albarossa) and then has this unique international character given by Pinot Noir, Merlot, Cabernet Sauvignon, Sauvignon Blanc, Viognier and Chardonnay which were also 'they planted in the 80's from the previous ownership. The internationality of Colle Manora, however, is not necessarily desired: it is an element of reflection of the stories that have made the company and that have intertwined and handed down. I myself am an example: I am the daughter of a diplomat, I grew up and studied abroad, my first language is French and all these aspects are part of me and inevitably flow into the identity of Colle Manora.
But Colle Manora is more than this: the more I get to know it, the more I realize that its "terroir" is the real strength of the company. We have refined our agronomic and production approach to enhance its potential, preserve its integrity, to express it in the wines we produce.
We can say that Colle Manora has been shaped by different influences, fashion and engines above all: how do these parallel passions integrate into your company?
The experiences and passions of our family have intertwined to flow into the identity of Colle Manora; we introduced them into the company almost involuntarily because each of us has brought a part of ourselves into our business.
Fashion is the imprint of Mila (Schön, ed), who was more interested in the creative and aesthetic side of the estate. She has never been directly involved in the management of Colle Manora. However, she too has been able to impress part of her personality on the company and it was inevitable for us to dedicate the "Mila" wine to her, which is a Chardonnay and Viognier fermented in wood. In the manner of a Chablis which, despite the aging in wood, remains fresh and elegant. Exactly how she was!
Engines are something that Giorgio and I are both passionate about.
Our own logo was invented by Giorgio in a minute, combining the red body of the 750 that we hung in the cellar with a bunch of grapes that represents our business. The red line represents the profile of the machine and makes up the branch of the bunch.
Additionally, we produced a wine called Rosso Barchetta out of Cabernet Sauvignon and Merlot grapes in honor of our love of automobiles: an intense, persistent wine with a complex aftertaste.
These passions are our lives, which bind and intertwine in the identity fabric of Colle Manora.
What role does hospitality play in the world of Colle Manora?
I would like it to occupy an important place. But, to give a more comprehensive answer, I'd like to start with a question: why is there so little passage of wine tourists in the Monferrato area? We have nothing to envy of the Langhe or the classic Chianti, but I fear that there is a lack of joint action to promote our territory. Communication is becoming increasingly important to open up to consumers and to encourage wine tourism and to make the Piedmontese wine-growing reality better known.
We are preparing for spring. We will propose thematic picnics in the vineyard: our structure lends itself very well to this kind of event because it can accommodate more than 120 seated people. We have also renovated a farmhouse from which two apartments used as b&b were born, and in the future I would like to set up an educational forest to involve more children in our ecosystem.
For now, we mainly attract car enthusiasts. But it happens by word of mouth, between acquaintances. I would like to do more to increase the tourist movement in our area. Our landscapes are splendid and uncontaminated. What I have noticed is that all companies, in their own small way, do their own promotional activities, but each one works for itself. I believe that by joining forces and getting help from those who are competent, we will be able to obtain excellent results.
Marina, you are an entrepreneur, a manager and a Woman of Wine, but above all a peculiar figure of the Italian wine scene: can you tell us about your most significant life experiences and how they influenced your work at Colle Manora?
What I can tell you is that managing a winery (which, in the collective imagination, is represented as something romantic and bucolic) is a much more complex and articulated undertaking than other entrepreneurial activities.
One cannot ignore one's experience when one experiences a company so intensely: for example, I soon realized that I could not help but apply the concepts I had learned during my life to business management.
I attended French schools from kindergarten to university, choosing a mixed classic and economic curriculum. Later I moved to England to continue my studies in economics and history, moving to Rome shortly after and I stayed in Italy to then work in finance and attend a master's degree at Bocconi.
In fact, I have never attended specific courses in agriculture or oenology but only short in-depth courses: I learned everything I know about agriculture growing up in the countryside in contact with people, sometimes incredible, who populate the wineries.
Wineries are very serious and demanding systems, which reason with industrial and entrepreneurial concepts, sometimes made rigid by stringent regulations and complicated administrative procedures. They are production centers in which there are primary, secondary and tertiary sectors (agricultural raw material, transformation of the same and marketing) in a unicum. This requires a vision, a 360° preparation and knowledge of the market, but also the awareness that, on the other side of the scenario, we find an average customer who is poorly informed about the wine product. We address a complex market that is often poorly educated on the subject.
We need to work as a team to make the consumer understand that the price of wine cannot be lower than the price of water. Anyone who drinks must know that in a glass of wine there is a company, important investments, there are long production processes, values, a history; it's up to us to be able to communicate all this.