Feudo Antico: between archaeology and native vines
It began as an archaeo-enology project, but it has also evolved over time into an excellent example of wine tourism hospitality. I'm talking about Feudo Antico, the company founded in 2004 and part of the historic Abruzzo cooperation, Cantina Tollo.
In the beginning it was supposed to be an experimental project to revitalize native crops, starting from the Abruzzo classics Montepulciano, Pecorino and Passerina, included in one of the smallest denominations in Italy, the docg Tullum, contained exclusively in the municipality of Tollo in the province of Chieti. Archaeology was the extraordinary added value of the project, thanks to the findings made during the replanting of the Pecorino vineyards which uncovered the remains of a Roman building, with an ancient cistern and amphorae for storing wine. At that point, the good administrators of Cantina Tollo understood that Feudo Antico could become not only an important point of reference for quality Abruzzo viticulture, but also an ideal place to develop a wine tourism hospitality project.
We were lucky enough to be able to enjoy the new reception facilities and to be part of a guided visit by, among others, President Vittorio Di Carlo. A very important example to make people understand how even in a cooperative it is essential that the administrators "put their face" in communication, in particular in the hospitality activity. Giving cooperatives a face is a strategic factor, we must never forget that. But Feudo Antico is truly a special place: tasting rooms, large areas for events, in addition to the impressive archaeological area that has been made visible and easy to visit. All within a modern structure made even more fascinating by the archaeological setting. Feudo Antico also represents an excellent example of how a large cooperative can create places totally dedicated to hospitality, where the best qualities of an area with a strong wine-growing vocation such as Chieti can be "narrated", starting right from the Tollo area.
It is very important to underline this last aspect, as cooperatives not only have a strategic role in the economy of a territory and a denomination, but can also become important points of reference in regard to hospitality. Fortunately, today there are many virtuous examples of Italian cooperatives involved in wine tourism and the Feudo Antico project places itself on this route in an absolutely original way.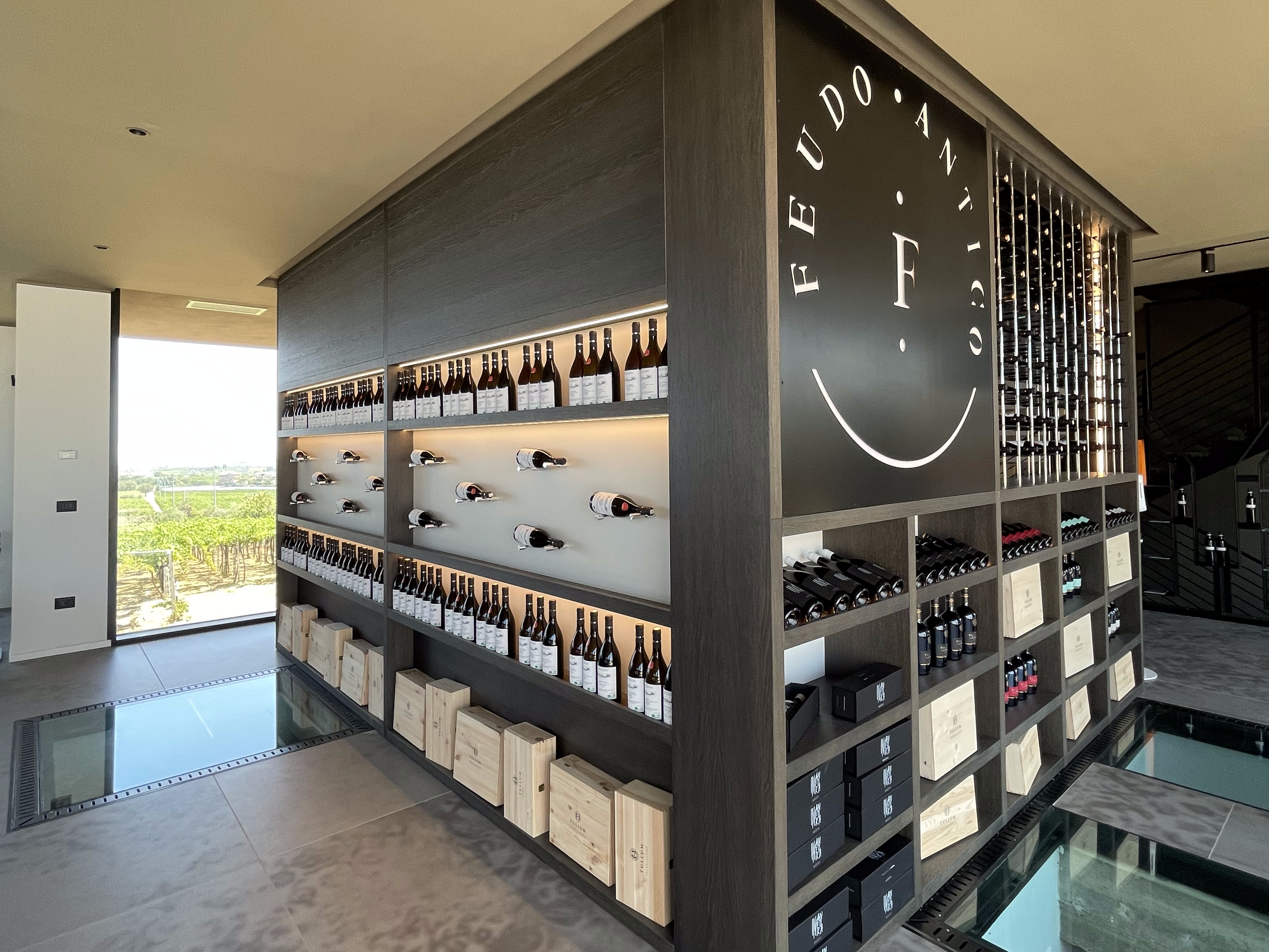 But if archaeology certainly represents a strong appeal to the high-end wine tourist, Feudo Antico's wine project certainly remains a supporting asset in the storytelling of corporate hospitality. Feudo Antico, in fact, represents an excellent example of wine research also inspired by the history of this area.
The Inanfora project, for example, fits into this category. Inspired by the Roman amphorae found, it re-proposes this ancient winemaking technique with a modern vision that has led to minimal use of sulphites.
All this takes on a special charm in the account given to us during our visit via a beautiful description from agronomist Antonio Sitti under the Pecorino tent, which helped us understand the reasons this land is one of the ideal habitats for the native Abruzzo vines.
And this is precisely one of the main values and objectives of wine tourism: to help people understand the reasons why a terroir is suited to certain productions. At Feudo Antico they succeed perfectly, and they do it with an informative simplicity that is the basis for building effective communication, one that is remembered over time.
photographs by © Nicolò Pitteri