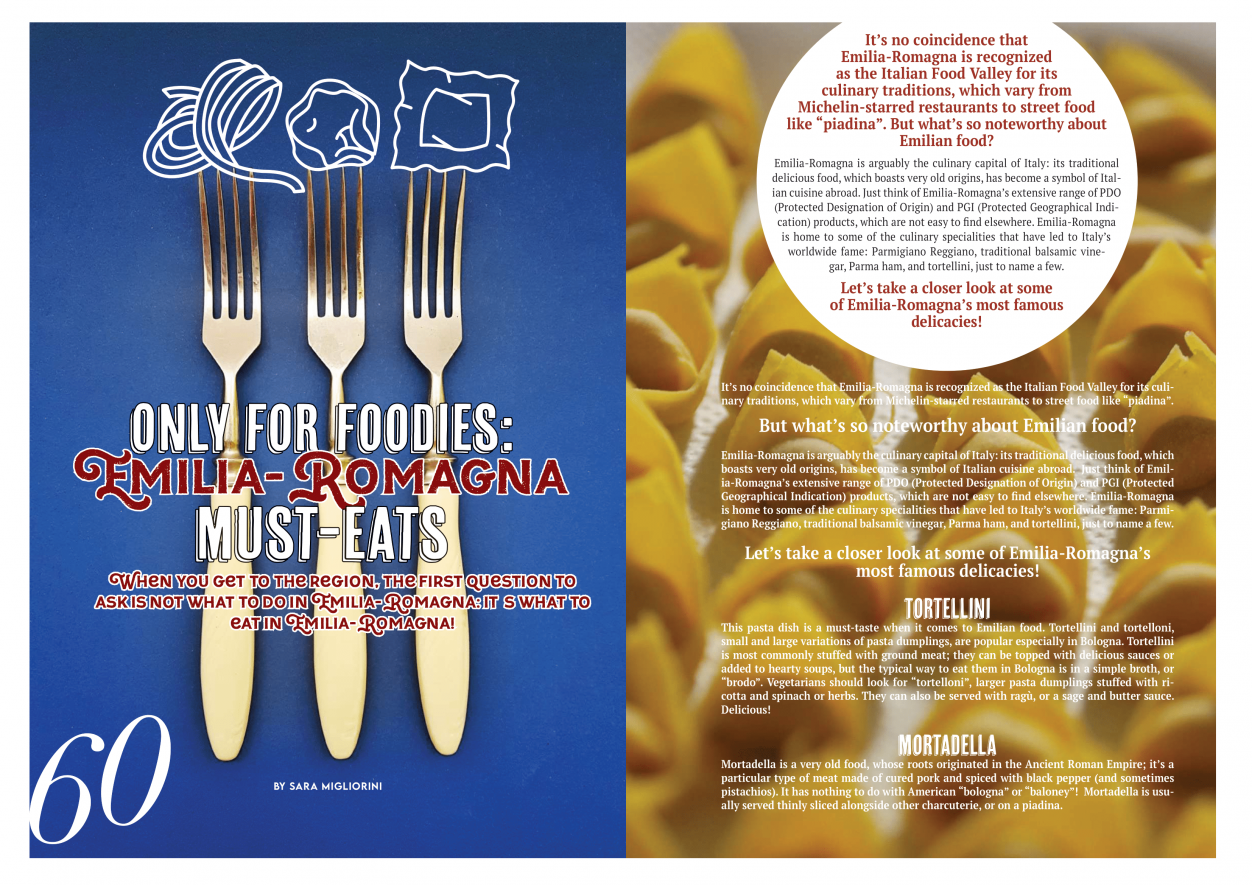 Only for foodies: Emilia-Romagna must-eats
When you get to the region, the first question to ask is not what to do in Emilia-Romagna: it's what to eat in Emilia-Romagna!
By Sara Migliorini
---
It's no coincidence that Emilia-Romagna is recognized as the Italian Food Valley for its culinary traditions, which vary from Michelin-starred restaurants to street food like "piadina".
But what's so noteworthy about Emilian food?
Emilia-Romagna is arguably the culinary capital of Italy: its traditional delicious food, which boasts very old origins, has become a symbol of Italian cuisine abroad.
Just think of Emilia-Romagna's extensive range of PDO (Protected Designation of Origin) and PGI (Protected Geographical Indication) products, which are not easy to find elsewhere.
Emilia-Romagna is home to some of the culinary specialities that have led to Italy's worldwide fame: Parmigiano Reggiano, traditional balsamic vinegar, Parma ham, and tortellini, just to name a few.
Let's take a closer look at some of Emilia-Romagna's most famous delicacies!
This pasta dish is a must-taste when it comes to Emilian food. Tortellini and tortelloni, small and large variations of pasta dumplings, are popular especially in Bologna. Tortellini is most commonly stuffed with ground meat; they can be topped with delicious sauces or added to hearty soups, but the typical way to eat them in Bologna is in a simple broth, or "brodo".
Vegetarians should look for "tortelloni", larger pasta dumplings stuffed with ricotta and spinach or herbs. They can also be served with ragù, or a sage and butter sauce. Delicious!
Mortadella is a very old food, whose roots originated in the Ancient Roman Empire; it's a particular type of meat made of cured pork and spiced with black pepper (and sometimes pistachios). It has nothing to do with American "bologna" or "baloney"!
Mortadella is usually served thinly sliced alongside other charcuterie, or on a piadina.
Just like mortadella, Parma ham ("Prosciutto di Parma" in Italian) dates back to Roman times. It is a PDO product with a sweet and intense flavor. Parma cured ham is delicious on its own or on bread slices, but it can also be used in pasta dishes like tagliolini with a courgette sauce, or in meat-based main courses.
"Gnocco Fritto" is a typical appetizer that takes different names according to the zone it's produced in. For example, in some areas it's also called "crescentina" or "torta fritta". Anyway, the recipe stays the same: flour, lard, water and salt, mixed together and fried. The gnocco fritto can be tasted alone or it can be paired with cured meats like prosciutto crudo di Parma, mortadella and salami.
Often referred to as "the King of Cheese", Parmigiano Reggiano is a regional cheese many people are familiar with. It's a hard cheese that's usually grated on pasta: it takes years to produce and a second to devour. You may also find Parmigiano served as bite sized crumbles, or with a little drizzle of balsamic vinegar on top.
Traditional Balsamic Vinegar
"Aceto Balsamico di Modena" is a traditional, aged-in-wood vinegar that tastes bitter sweet.
Authentic DPO Modena vinegar is silky and gets along well with other Emilian foods, as it's a staple at most dining room tables. From cheese, figs, and micro greens to pastry, pasta, or a scoop of vanilla gelato: there's nothing you can't do with Balsamic Vinegar!
Ragù is more than just a sauce made with tomatoes, ground meat, onions, and carrots: it's one of the most classic dishes that represent Bologna, the capital of Emilia-Romagna.
Just like Parmigiano Reggiano, authentic bolognese ragù takes a lot of time to make and a fews seconds to eat. People in Italy tend to eat it with tagliatelle (egg-based pasta) instead of spaghetti because they hold the sauce better.
Pair it with an Emilian wine (like Lambrusco) and it's a match made in heaven!
Did you know that lasagna is the oldest kind of pasta? This meal is originally from the Emilia-Romagna area, where Bologna was the commercial capital during Roman times.
Lasagna consists of egg pasta sheets overlapped and split with ragù and béchamel sauce: it is cooked in the oven and then served, ready to be eaten.
You'll find Tigelle everywhere in Emilia-Romagna: they are simple bread disks made from flour and water, traditionally cooked in a cast iron mould called "tigelliera".
They are typically served with delicious cured meats like ham, mortadella and salami. However, tigelle are equally delicious on their own, and the more traditional disks are filled with a herb, spice, pork, and lard mixture.
For a quick meal, you can try "piadina", a rustic Italian flatbread made with flour, lard, and salt served with a variety of ingredients. In many places, you can also find a vegan version of piadina made with olive oil. Piadina is so versatile you can also have it with Nutella for breakfast – seeing is believing!
What better way to end a meal than with a cup of freshly made coffee? "Caffè allo zabaione" is a rich blend of espresso and "zabaione", an egg, sugar, and sweet wine combination often reserved for dessert. A literal shot of sweetness and energy!
…and don't forget the gelato!