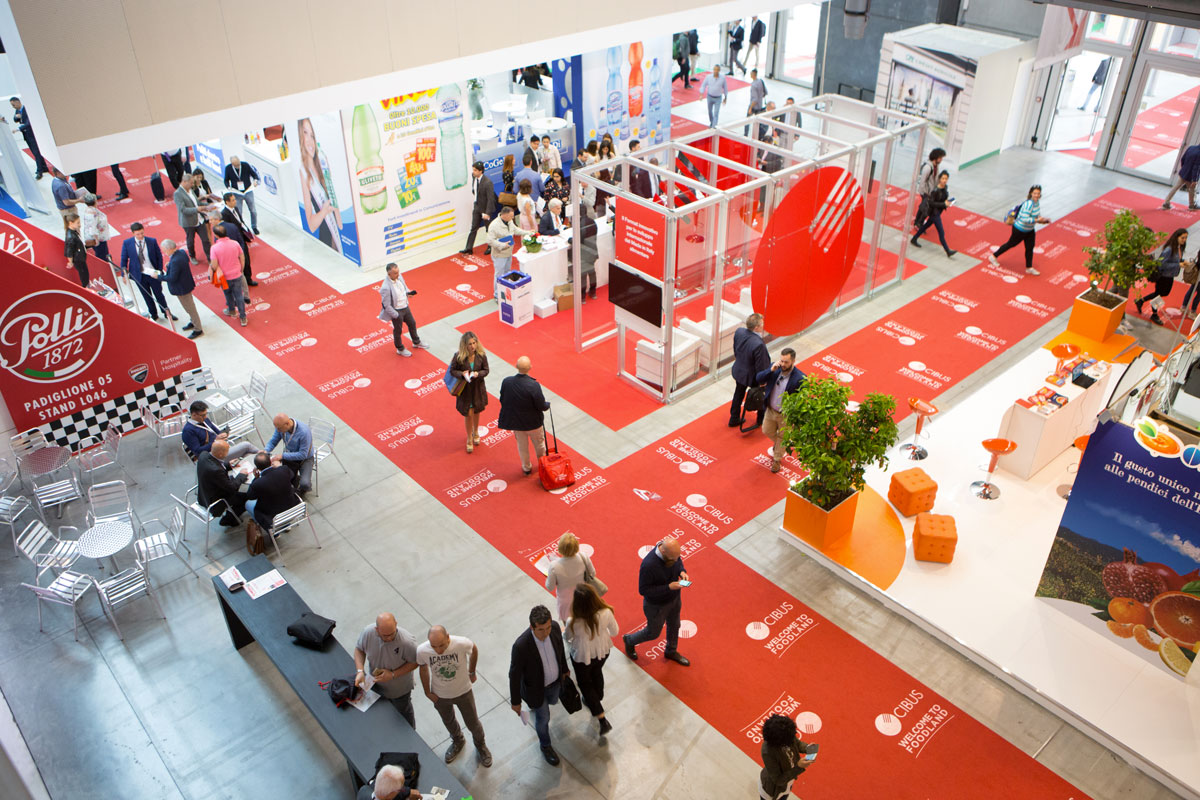 Cibus 2021 marks the restart of the Italian agri-food market
Cibus 2021 is the first major Italian international fair that will take place in Parma from 31 August to 3 September; it represents a stepping stone for Made in Italy products. The fair was presented on 7 June in Rome in the presence of the Minister of Foreign Affairs Luigi Di Maio, by Gino Gandolfi, president of Fiere di Parma, Antonio Cellie, CEO of Fiere di Parma, Carlo Ferro, president of Agenzia ICE and Ivano Vacondio, president of Federalimentare.
Cibus 2021 will feature new products that will fuel the recovery of domestic consumption and foreign exports, ranging from cured meats to cheeses, pasta to tomatoes, oil to baked goods, beverages to grocery, frozen foods to local products, and so on. There will be a new area dedicated to the Horeca channel (called "Ho.Re.Ca.The HUB"), alongside with a new Unionbirrai and Birra Nostra space (dedicated to craft beers) and a corner of Bellavita Expo (the B2B event which organizes Food & Beverage themed promotional events in foreign capitals).
"This event marks the true restart of the country" announced the Minister of Foreign Affairs Luigi di Maio."Our agri-food exports increased even during the pandemic, reaching 46 billion dollars. The Farnesina collaborated with the government to assist businesses: financial and promotional initiatives were implemented, as well as loans of up to ten billion euros. Another 576 million was allocated to the exhibition sector. We are aiming to make many of these supports structural in light of an unprecedented plan for promoting Made in Italy in partnership with our embassies network and the ICE".
"Cibus will be the icon of the Italian food industry's recovery," said Federalimentare's president Ivano Vacondio. "It took the epidemic to learn that food, particularly its quality, should not be taken for granted".
Carlo Ferro, president of ICE, stated that the return of the live Cibus event is a significant milestone. "Cibus 2021 demonstrates the organizers' courage, the perseverance of our businesses, and the support of our Country" President Ferro remarked. "The epidemic has underlined some megatrends that will be typical of future markets, such as a focus on healthy diet and sustainability, as well as a shift to digital media. Cibus will also be a chance to reinforce the importance of a healthy, balanced, and sustainable Mediterranean diet, in combination with the territory's bio-diversity, the excellence of the entire agri-food chain, and the distinctiveness of the Italian lifestyle".
About three thousand Italian exhibiting companies are expected to attend Cibus 2021, and all the players in the agri-food chain will be present. "All the companies have confirmed their attendance," said Fiere di Parma president Gino Gandolfi, "but we have observed an eagerness in them, a specific energy that suggests a great desire to restart".
The digital / physical binomial will outline a new vision of fairs for Riccardo Caravita, Cibus food brand manager. "The changes are linked to the new way of seeing fairs in this pandemic phase, in addition to the security procedures required for a significant event with big influxes from both Italy and outside. This year's Cibus will undoubtedly be a smarter fair, focusing more on physical business while also including a digital component".
There will be Italian and international buyers at Cibus 2021, who will be treated to a one-of-a-kind experience that includes visits with thematic itineraries dedicated to typical products from the food valley. The "Cibus Forum," the exclusive conference complex, will also provide an opportunity for players in the agri-food chain to discuss the sector's most pressing concerns.