Marchesi di Barolo, where it all began
The understanding of Barolo's extraordinary potential came about with the marriage of the Marquis of Barolo to Juliette Colbert of Maulévrier in 1807, a heritage that is now well preserved and valued by the Abbona family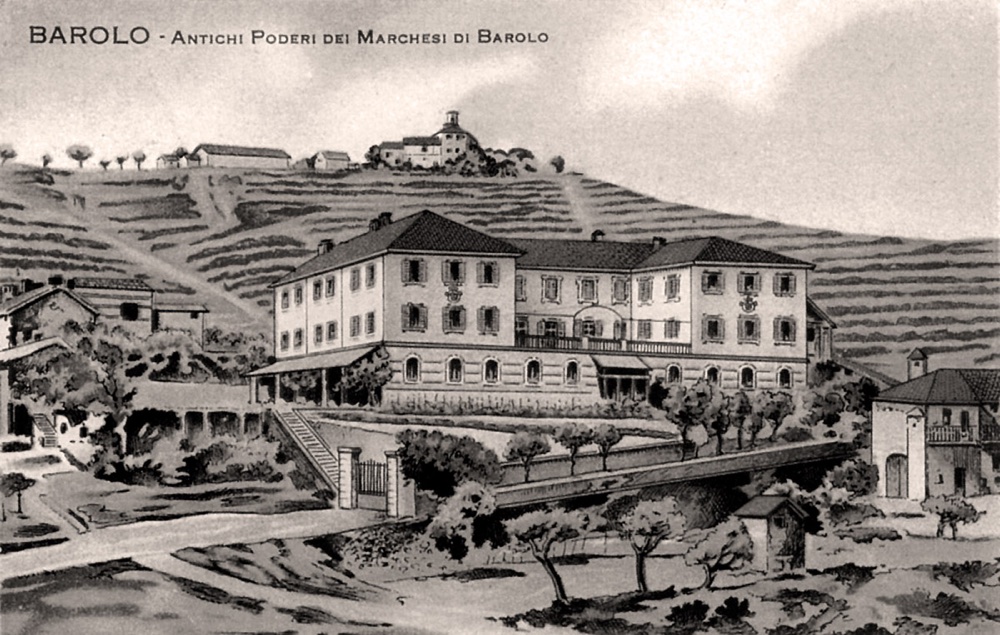 When you enter wineries like the Marchesi di Barolo you feel encompassed by an authentic aura of history. Not a "dusty" history that some museums have or a sense of being stuck in the past that characterizes some companies, rather the evolutionary process of a historical journey that you are lucky enough to experience in person.
It's a history that the Abbona family has been guardian and successor of since 1929, with the purchase of the Tenuta Opera Pia Barolo Agency, that is, the historic winemaking and refinement cellars of the Marchesi di Barolo.
Today Anna and Ernesto Abbona, together with their children Valentina and Davide, are continuing the tradition begun over two hundred years ago, succeeding however in providing a new energy that is expressed both in terms of the quality of the wines and in terms of hospitality.
And speaking of hospitality, entering our camper Gino into the charming internal courtyard of Marchesi di Barolo is like immersing yourself, as if by magic, not only in the history of this company but more generally in the Barolo myth.
Listening to the voice of Valentina Abbona describe the company from the fantastic terrace that overlooks the town of Barolo as if it were a spaceship, is in itself a great thrill.
Speaking with Valentina and her brother Davide, it was easy for me to make a reflection that I think is very important to share with our readers. We often fear the transfer between generations within our wine sector. This is certainly not an easy transition and not all our wine families will be able to guarantee satisfactory continuity. But this has to be accepted because there could be nothing worse than inheriting a legacy that you are neither convinced of nor capable of.
But this problem certainly doesn't exist in the house of the Marchesi di Barolo because both Valentina and Davide not only display an already evident and proven competence, but also an authentic passion and desire to contribute to the winery.
I do not deny that when we find ourselves in the presence of wineries of this type, where there is an excellent harmony between the "old" and the new generation, with well-distributed roles and responsibilities, we can't help but be optimistic for the future of our wine sector.
Not only that, but when the "family" business works, thanks to a proper division of roles and skills, without "field invasions" or jealousy, there is no doubt that it represents one of the most effective and winning business models in our wine sector.
Undoubtedly, the Marchesi di Barolo's role as "narrator" is still in the hands, or rather in the words, of Ernesto Abbona who, even during our visit, once again showed us his extraordinary ability to communicate.
His story in the historic cellar in front of the "theater cabinet" telling of the meeting between the Marquis of Barolo and Juliette Colbert of Maulévrier and the subsequent events that led to the creation of the myth of Barolo, certainly remains one of the deeper "communicative moments" of our Italian Wine Tour. The great enthusiasm shown by my children, Anna and Biagio, during Ernesto's compelling story is the best testimony of the effectiveness of this way of communicating which, not surprisingly, we recognized last year as part of our "Meridiano del Vino" award.
But the entire Marchesi di Barolo is a communication tool, a sort of large acoustic box located in the nerve center of the Barolo winery and of Barolo wine
I strongly want to emphasize this communicative aspect and the Abbona family's winery demonstrates how a serious investment in communication is increasingly necessary today.
We want to be completely honest: even this Italian Wine Tour has shown that a worrying gap exists today between what is the production reality of our country and its ability to communicate at its best.
Too many times, even during this trip, we have come across extraordinary stories that are still paradoxically unknown or badly narrated.
A situation so serious that we have decided to vigorously resume our training activities including on the communication front.
And in our training courses we will certainly utilize highly positive experiences such as that of the Marchesi di Barolo.
The communication and relational initiatives of the well-known Barolo company did not stop even during the lockdown period, thanks also to an extraordinary ability to use digital tools.
But of course, the Marchesi di Barolo is not "only" a great communicator. Its commitment on the wine-making front has again been confirmed this time in the tasting of their wines.
Today the winery controls about 200 hectares of vineyards, making wine from the main native vines of the Langhe, Roero and Monferrato with a strong focus on the glorification of the peculiarities of the historical crus of Barolo and Barbaresco owned by the Marchesi di Barolo and made into a varietal wine.
Our tastings focused on two wines that really fascinated us, starting with the "Bric Amel" which attests that white wines with great personality can also be obtained in the Langa. It is an absolutely original blend of Arneis, Chardonnay and Sauvignon that has rightfully found its way to our wine hit list for this hot summer.
But obviously we couldn't be without king Barolo. And I have to admit that Barolo from the Barolo Municipality has always been one of my favorites of this variety, made from a blend of Nebbiolo obtained exclusively in the "historic Crus" located in the Barolo Municipality. A very particular terroir, as Valentina reminded us, perhaps the most "Mediterranean" (warmer on average than other areas of the Langhe), but very well ventilated which provides a Barolo of great elegance and incredible drinkability.
And so again we left the Marchesi di Barolo with Anna and Ernesto, who had reopened their front door for us with their usual smile.
As we left, we were immediately overcome with a feeling of nostalgia. I guess we'll have to get them to reopen that front door again soon.