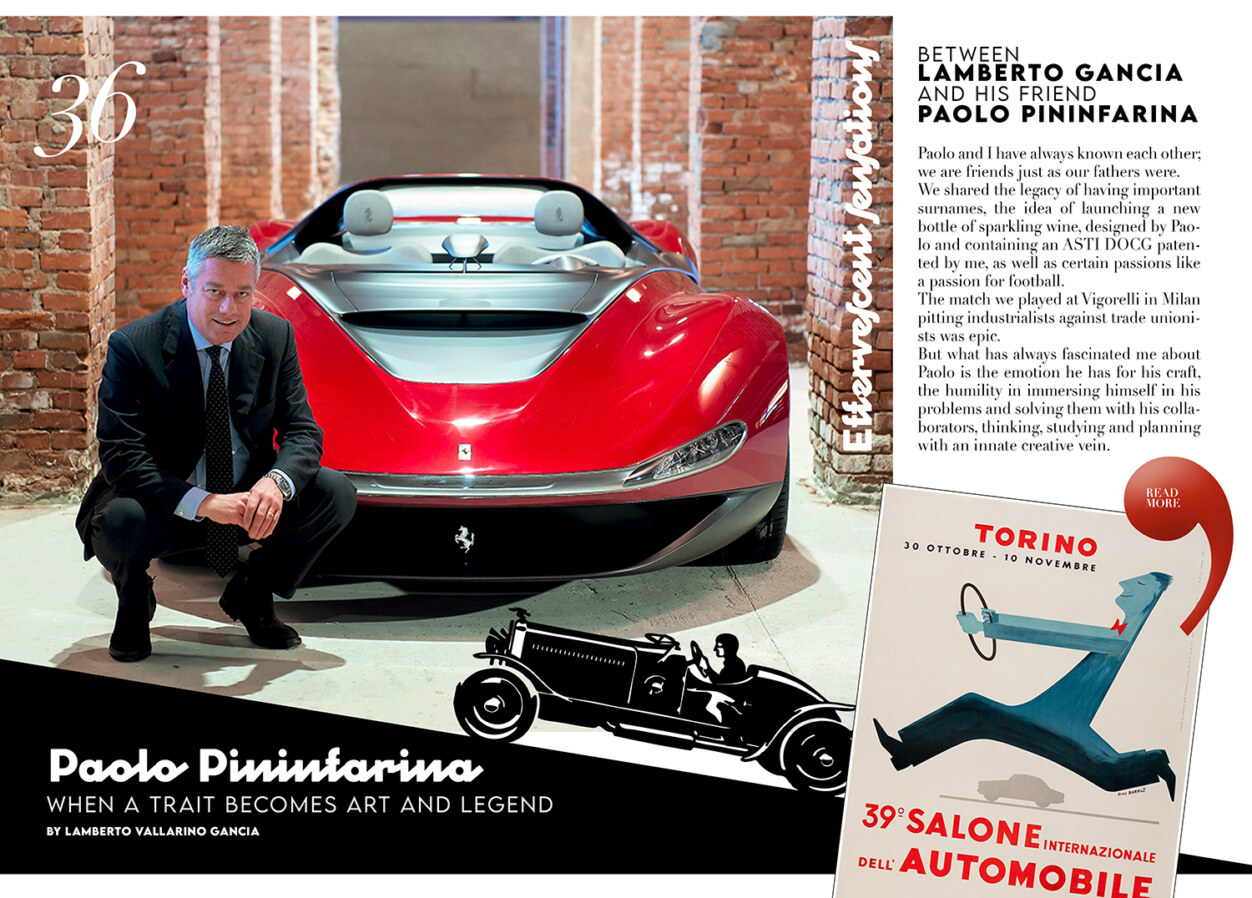 Paolo Pininfarina. When a trait becomes art and legend
Effervescent sensations between Lamberto Gancia and his friend Paolo Pininfarina
Paolo and I have always known each other; we are friends just as our fathers were.
We shared the legacy of having important surnames, the idea of launching a new bottle of sparkling wine, designed by Paolo and containing an ASTI DOCG patented by me, as well as certain passions like a passion for football. The match we played at Vigorelli in Milan pitting industrialists against trade unionists was epic.
But what has always fascinated me about Paolo is the emotion he has for his craft, the humility in immersing himself in his problems and solving them with his collaborators, thinking, studying and planning with an innate creative vein.
After graduating in engineering, he joined the family business …
"I gradually discovered myself as a designer in the field, over time developing more than 600 design projects outside of the automobile industry, also taking on the role of Chairman of the Company. But beyond the corporate events I like to remember that in the moments when I have been most excited in recent years, presenting our automotive creations, I have always opened some bubbles to celebrate… In Paris in 2008 for the Bluecar, in Geneva in 2010 for the Duettottanta, in 2011 for the FF, in 2012 for the Cambiano and in 2013 for the Sergio, at Villa d'Este in 2013 for the BMW Granlusso, in Geneva in 2014 for the OPPURE Sergio stradale, in 2016 for the H2Speed and this year for the HK600 and for the EF7. All extremely beautiful projects, I would even say impressive, of great impact, although there are three which I am particularly proud of: one, in industrial design, is the Snaidero Ola kitchen; the interior design of the Juventus Stadium; and, in the automobile sector, the Ferrari FF. I like challenges. I would be inclined to say almost all of them, because in addition to playing football, as an amateur, I ski, play golf, but I also garden and work on garden design. My most hidden passion is the one I have for rock music, as I have been playing drums for more than 40 years. Music fascinates me; it is an unconventional sound, while that of my 12-cylinder Ferrari is more classic, like a symphony. I really like being outdoors, in the silence of nature. I love the grape harvest, I love wines and bubbles which I first enjoyed on the occasion of my first New Year's Eve party, at the end of 1971, in Sestriere. I was at Patrizia Sandretto's house and the sound of Happy Xmas (War Is Over) by John Lennon was echoing around. A wonderful party with friends. Beautiful memories of equally beautiful moments that I'll never forget and that I take with me in my work which sees me, together with the company management, committed to consolidating Pininfarina's presence in China, the United States and the United Arab Emirates".
Like all creatives he is particularly fond of his latest product: the Fittipaldi EF7, presented in Geneva, which he defines as "the dream of a dream team".
I listen to him as he talks about himself and he gives me his point of view on the reasons for the success of Italian design, a popularity that must be sought in our traditions and in the culture that helps us to have a sense of harmony. Yes, the harmony of balance, the value and the example for all entrepreneurs who want to be successful in Italy and around the world. There is also another important element that I believe to be of great importance, and that is consistency in one's values. Key elements, which are no less important than the mistakes we must learn from, perhaps recognizing that we have invested time and resources in projects in markets and sectors that are not entirely secure.
"If you make a mistake, you must realize immediately and stop. If you want to innovate, you have to be fast and know how to manage entrepreneurial risk quickly, especially in design where you have to anticipate market trends. This is something we Italians have always been able to do. The world is attracted to the beauty of our
design, which is certainly our strength. As are thousands of other things, from our good living beginning with our gastronomic products, to catering and to wine that I have enjoyed producing since 2000 with the help of an oenologist. I manage to bottle a small amount of red wine, only Freisa di Chieri DOC initially, but to which I have recently added a Collina Torinese Rosso. Less than 300 plants, a 225 liter durmast barrique; a wine for family consumption that I consider an extraordinary luxury".
Words that flow freely between old friends and that I willingly listen to, knowing that I am in the presence of a character who is part of the history of Italy and the world, with many values to follow as an example.