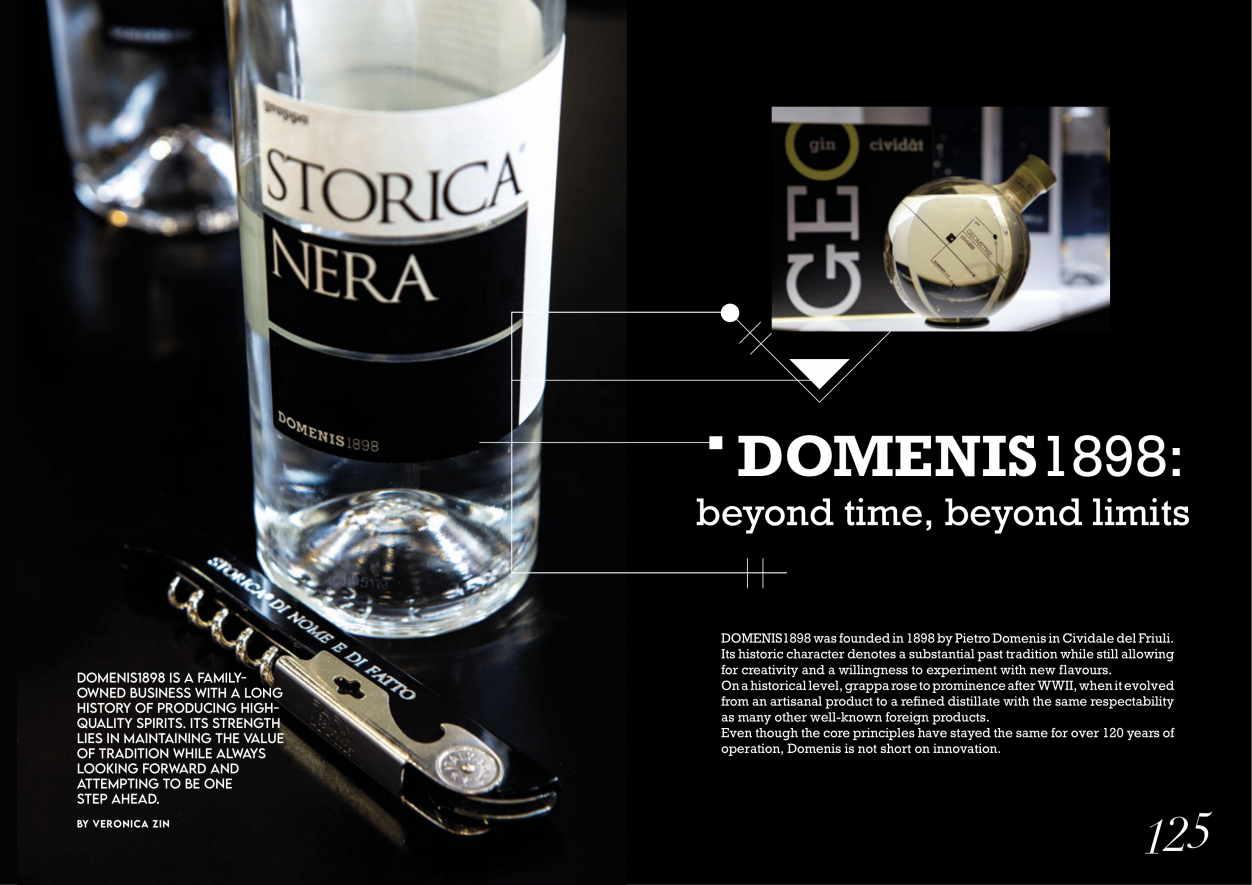 DOMENIS1898: beyond time, beyond limits
… you can actually dine with grappa!

Cristina Domenis
DOMENIS1898 is a family- owned business with a long history of producing high-quality spirits. Its strength lies in maintaining the value of tradition while always looking forward and attempting to be one step ahead.
The company was founded in 1898 by Pietro Domenis in Cividale del Friuli. Its historic character denotes a substantial past tradition while still allowing for creativity and a willingness to experiment with new flavours.
On a historical level, grappa rose to prominence after WWII, when it evolved from an artisanal product to a refined distillate with the same respectability as many other well-known foreign products.
Even though the core principles have stayed the same for over 120 years of operation, Domenis is not short on innovation. Storica Nera, the company's flagship product, was in- troduced in 1998, together with Secolo, a 60° grappa dedicated to the founder Pietro: a challenge, a harmoni- ous distillate that is exquisite, intense, yet smooth and velvety at the same time. Domenis Organic Line was launched in 1999 to address the rising demand of customers who recognize the value of organic agricultural products. The company now sells eight organic products, three of which are also vegan-certified.
Cristina Domenis, current Production Manager and fourth generation Domenis family member, goes on remarking that the business is also committed to "the whole restyling of the image". The renewal also benefits communication, which must be prepared to deal with new challenges and trends. Therefore, in Cristina's words, "we need simple and straightforward communication, especially in the design of the product", as the world of spirits evolves, and more and more young enthusiasts approach this sector. And it is precisely to encourage these new generations that DOMENIS1898 decided to introduce its gins in 2016, including Cividât, the 42° gin that best expresses the unique characteristics of the Cividale del Friuli territory, and liqueurs such as Storica Amaro, Storica Verde, and Storica Sambuca, all renowned excellences. In 2018, La120 – the outcome of a selection of the best aged grappas – was born to commemorate the company's 120th anniversary. DOMENIS1898 never ceases to amaze and offers, in addi tion to Cividât gin, the Trittico line which consists of eleven award-winning mixology products, popular among bartenders and aficionados.
Providing the appropriate value to grappa in blending is an important operation that should not be underestimated, as grappa – unlike vodka, which is a neutral prod- uct – has organoleptic and olfactory characteristics that are not easy to combine and deserve to be brought out in a harmonious way. Finally, when it comes to food pairings, do not underestimate the intriguing option of matching grappa with good cuisine. This challenge became a reality thanks to a beautiful four-course supper paired with several varieties of DOMENIS1898 grappa, since – in Cristina's words – "… you can actually dine with grappa!".
DOMENIS1898 values quality over quantity and recognizes that, if the market evolves quickly, the company must evolve in symbiosis with it. This mindset has allowed DOMENIS1898 to fulfill and exceed all its goals; the fact that the Company has been awarded as "Italy Fruit Liqueur Distillery of The Year" at the New York International Spirits Competition (NYISC) is a powerful demonstration of this. In an extremely competitive market like New York, this is a great tribute not just to the Company and its people, but also to Made in Italy in general.