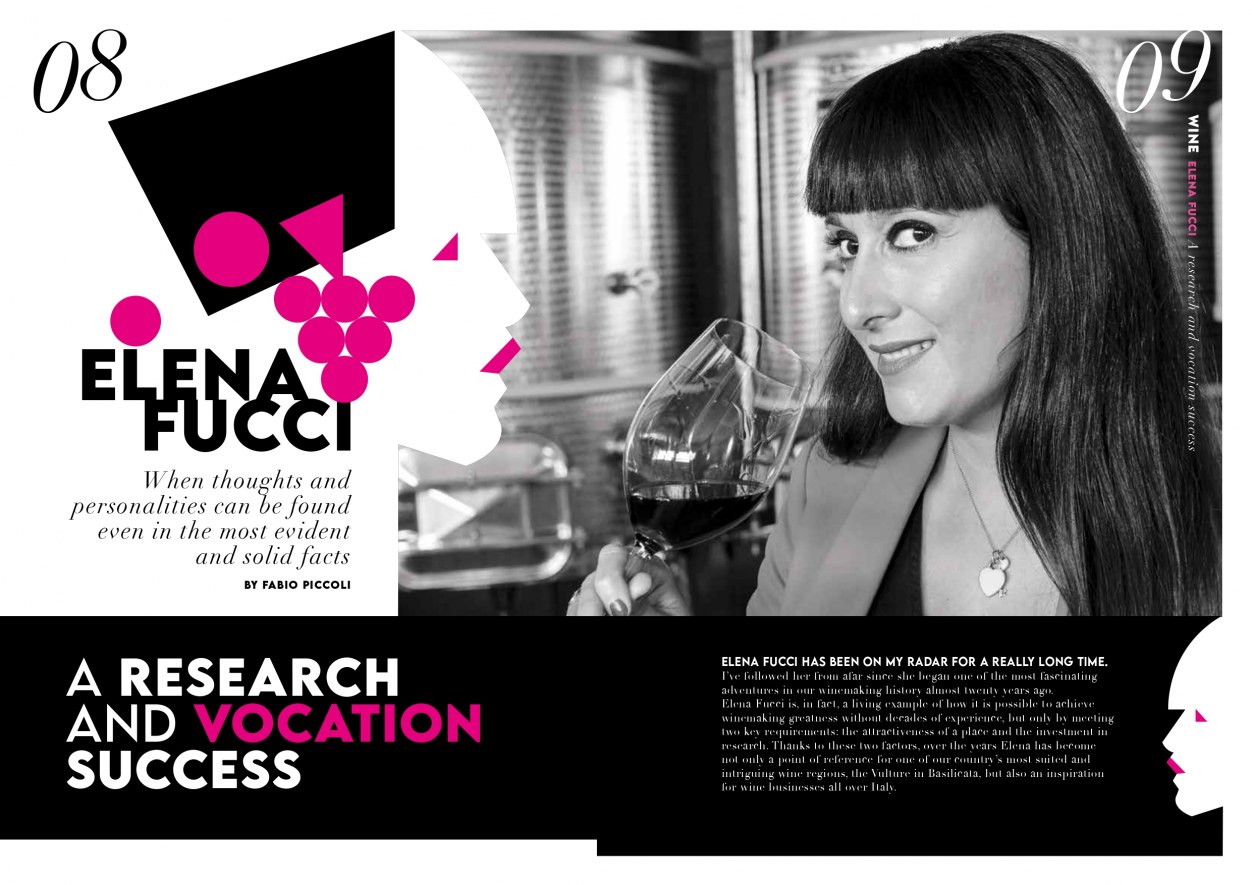 Elena Fucci: a research and vocation success story
Elena Fucci has been on my radar for a really long time. I've followed her from afar since she began one of the most fascinating adventures in our winemaking history almost twenty years ago.
Elena Fucci is, in fact, a living example of how it is possible to achieve winemaking greatness without decades of experience, but only by meeting two key requirements: the attractiveness of a place and the investment in research. Thanks to these two factors, over the years Elena has become not only a point of reference for one of our country's most suited and intriguing wine regions, the Vulture in Basilicata, but also an inspiration for wine businesses all over Italy.
When our camper descends the steep slope to Elena Fucci's winery, she is waiting to record us with her smartphone, delighted at our arrival.
I feel at ease as soon as I step out of the camper, and my conversation with Elena is immediately full of ideas, as if we've known each other for a lifetime. I learn that her wine adventure began twenty years ago, in 2000, in the small town of Barile (whose name attests to its wine heritage). But I quickly realize that the term "adventure" does not apply to Elena in the least; despite being a volcano in her personal life, she is also an incredibly rational and precise professional.
Her success, therefore, is not accidental. Elena's entry into the world of wine may be the sole incidental factor, given the fact that it came with the risk of losing her home by selling the vineyard she inherited from her grandfather.
"We took the decision to sell the 6 hectares of vines that my grandfather Generoso acquired in the 1960s since neither my parents nor we were at the time inclined to take care of them. However, when the buyer told us that he also wanted our home, a light bulb went off in our heads".
Elena's ideas were undoubtedly lighted by a light bulb, causing her to shift her studies from the humanities to scientific ones focused on viticulture and oenology, and to create one of the most sophisticated and intriguing wineries in terms of green construction.
"It was genuinely an epiphany – Elena emphasizes – that led me to realize that something unique and extraordinary could come from those vineyards, the oldest in the Vulture (between 55 and 70 years old). The rest was pride; I wanted one of us to invest in a resource that had allowed my family to live in the Vulture for three generations". And it was precisely in this land that Elena decided to develop her vineyard concept. A little gem located at the foot of the Vulture, a young volcano in geological terms, given that the last eruption occurred "only" 130,000 years ago.
When you think about it, the Vulture and Elena Fucci have a lot in common: they're both young, yet already capable of giving their work a unique flair. Elena's primary research goal was, therefore, to fully comprehend the potential of her small region and to strive to maximize it in a single wine, without any further dispersion.
"Titolo", the Aglianico del Vulture, took shape precisely from this idea and is now one of the most prestigious and renowned wines in the world.
"Right from the start, we decided to bet everything on a single label, the "Titolo"; a single wine to represent the specificity of Aglianico and the unique terroir of Vulture" remarks Elena. "We were confident of our ability to do an exceptional job, although we had no lofty expectations, given Italy's rich wine legacy. We are glad to have established a reputation: our happiness extends beyond the awards we have received in national and worldwide guides".
Elena's ambition is subtly hinted at in the name she picked for her wine, which arose not from a dangerous illusion, but from the growing realization that those six hectares of vineyard genuinely harbor a treasure. However, as it often happens with valuable treasures, Elena realized that she needed patience, commitment and, most importantly, the willingness to make sacrifices to pursue her dream.
"It is a modern version of the Aglianico del Vulture, but it's not a modernist interpretation" the brilliant Daniele Cernilli said of her favorite wine, which she also deems the closest to her vitenological philosophy.
"I can completely relate to his opinion" Elena continues, "since what I'm aiming to achieve through my work in the vineyard is to understand the real qualities of Aglianico in terms of maturation and refinement, while never betraying its most true personality".
Elena's remarks are marvelously reinforced after tasting a couple vintages of her amazing Titolo.
"In addition to our crucial work in the vineyard, we continue to research, experiment, and plan to make Titolo better than ever. This is why I've embarked on a significant project to improve the aging process for my Aglianico of Vulture. In the future, I plan to acquire a new range of terracotta amphorae and fine oak barrels to produce an increasingly elegant wine that reflects my idea of ​​the territory".
Herein lays the key to unlocking the mystery. Telling the truth, and only the truth, which, when supported by evidence, takes on an enormous strength, similar to that of a volcano that continues to speak through a great little woman in a little corner of Italy.
---
By Fabio Piccoli