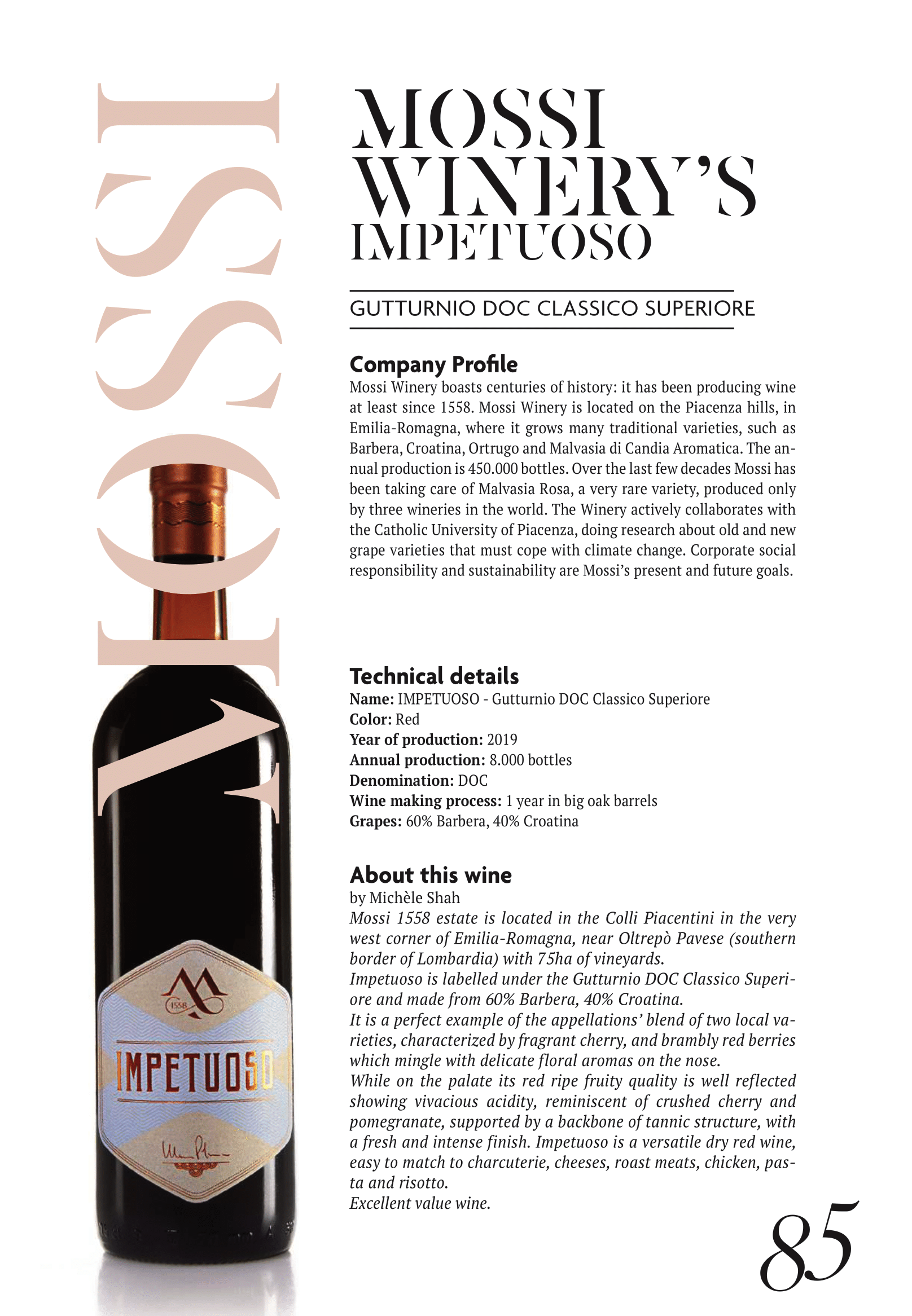 Mossi Winery's IMPETUOSO – Gutturnio DOC Classico Superiore
Company Profile
Mossi Winery boasts centuries of history: it has been producing wine at least since 1558. Mossi Winery is located on the Piacenza hills, in Emilia-Romagna, where it grows many traditional varieties, such as Barbera, Croatina, Ortrugo and Malvasia di Candia Aromatica. The annual production is 450.000 bottles. Over the last few decades Mossi has been taking care of Malvasia Rosa, a very rare variety, produced only by three wineries in the world. The Winery actively collaborates with the Catholic University of Piacenza, doing research about old and new grape varieties that must cope with climate change. Corporate social responsibility and sustainability are Mossi's present and future goals.
---
Technical details
Name: IMPETUOSO – Gutturnio DOC Classico Superiore
Color: Red
Year of production: 2019
Annual production: 8.000 bottles
Denomination: DOC
Wine making process: 1 year in big oak barrels
Grapes: 60% Barbera, 40% Croatina
---
About this wine
by Michèle Shah
Mossi 1558 estate is located in the Colli Piacentini in the very west corner of Emilia-Romagna, near Oltrepò Pavese (southern border of Lombardia) with 75ha of vineyards.
Impetuoso is labelled under the Gutturnio DOC Classico Superiore and made from 60% Barbera, 40% Croatina.
It is a perfect example of the appellations' blend of two local varieties, characterized by fragrant cherry, and brambly red berries which mingle with delicate floral aromas on the nose. While on the palate its red ripe fruity quality is well reflected showing vivacious acidity, reminiscent of crushed cherry and pomegranate, supported by a backbone of tannic structure, with a fresh and intense finish. Impetuoso is a versatile dry red wine, easy to match to charcuterie, cheeses, roast meats, chicken, pasta and risotto.
Excellent value wine.