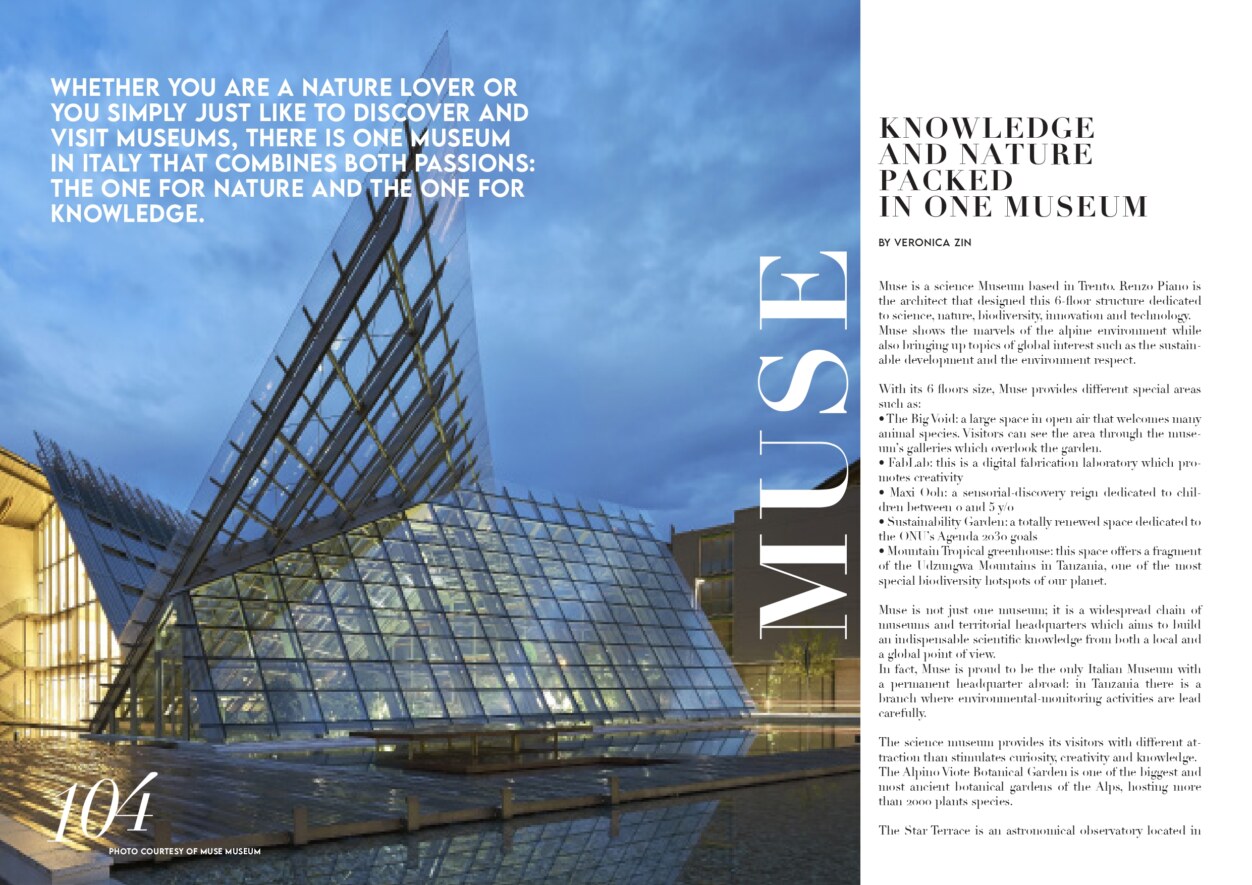 Muse: knowledge and nature packed in one Museum
Whether you are a nature lover or you simply just like to discover and visit museums, there is one Museum in Italy that combines both passions: the one for nature and the one for knowledge.
by Veronica Zin
---
Muse is a science Museum based in Trento. Renzo Piano is the architect that designed this 6-floor structure dedicated to science, nature, biodiversity, innovation and technology.
Muse shows the marvels of the alpine environment while also bringing up topics of global interest such as the sustainable development and the environment respect.
With its 6 floors size, Muse provides different special areas such as:
The Big Void: a large space in open air that welcomes many animal species. Visitors can see the area through the museum's galleries which overlook the garden.
FabLab: this is a digital fabrication laboratory which promotes creativity
Maxi Ooh: a sensorial-discovery reign dedicated to children between 0 and 5 y/o
Sustainability Garden: a totally renewed space dedicated to the ONU's Agenda 2030 goals
Mountain Tropical greenhouse: this space offers a fragment of the Udzungwa Mountains in Tanzania, one of the most special biodiversity hotspots of our planet.
Muse is not just one museum; it is a widespread chain of museums and territorial headquarters which aims to build an indispensable scientific knowledge from both a local and a global point of view.
In fact, Muse is proud to be the only Italian Museum with a permanent headquarter abroad: in Tanzania there is a branch where environmental-monitoring activities are lead carefully.
The science museum provides its visitors with different attraction than stimulates curiosity, creativity and knowledge.
The Alpino Viote Botanical Garden is one of the biggest and most ancient botanical gardens of the Alps, hosting more than 2000 plants species.
The Star Terrace is an astronomical observatory located in the Mount Bondone wide valley. Being far from the city center and its light, it is the ideal place to look at the sky and the stars and night through powerful telescopes.
Of course, the magic does not end here: the Palafitta Museum of the Ledro Lake is a completely renewed museum that leads the visitors in the daily life of the Bronze Age: from reconstructions to original remains of a palafitte village found in the lake's oriental bank.
But, if you are interested in geology, you might want to visit the Geological Museum of the Dolomite, which was recently renewed: it is a museum specialized in the Dolomite's geology.
On the other hand, if you like doing rather than just looking, Muse offers a Social Store which is a space dedicated to making things, to giving life to sustainable and educational products. It is a social inclusion project that offers services and laboratories for both adults and children.
Yet, if you feel like you are more of a visit type of person, Muse also gives you the possibility to have a cultural experience inside the Palazzo delle Albere: an entire structure that aims to make nature, science and society communicate with more humanistic studies.
Besides the traditional setting that is exhibited all year, Muse also organizes temporary exhibitions.
For example, you can now go and see the "Marvelous Travel" which will last until June 5th. This exhibition focuses on the relationship between science and philosophy through a multimedia expository path among lights, music, images, characters and voices.
Finally, if you are interested in sustainability, in bettering the environment we live in and your personal motto is "We only have one Earth", then the "How do we arrive there?" exhibition might be the best one for you.
It will be on until June 26th and it focuses on mobility's Past, Present and Future. You will have the chance to live visual, auditory and sensorial experiences made to highlight the goals and the solutions that Europe is expected to adopt within 2050 ion order to have a more sustainable, smart and resilient mobility.
So, if you are going to the Dolomites for the holidays, while enjoying the freshness and the pure nature that only the mountains can provide, you might want to squeeze in your planning a visit to Muse. It is sure you will not regret it.