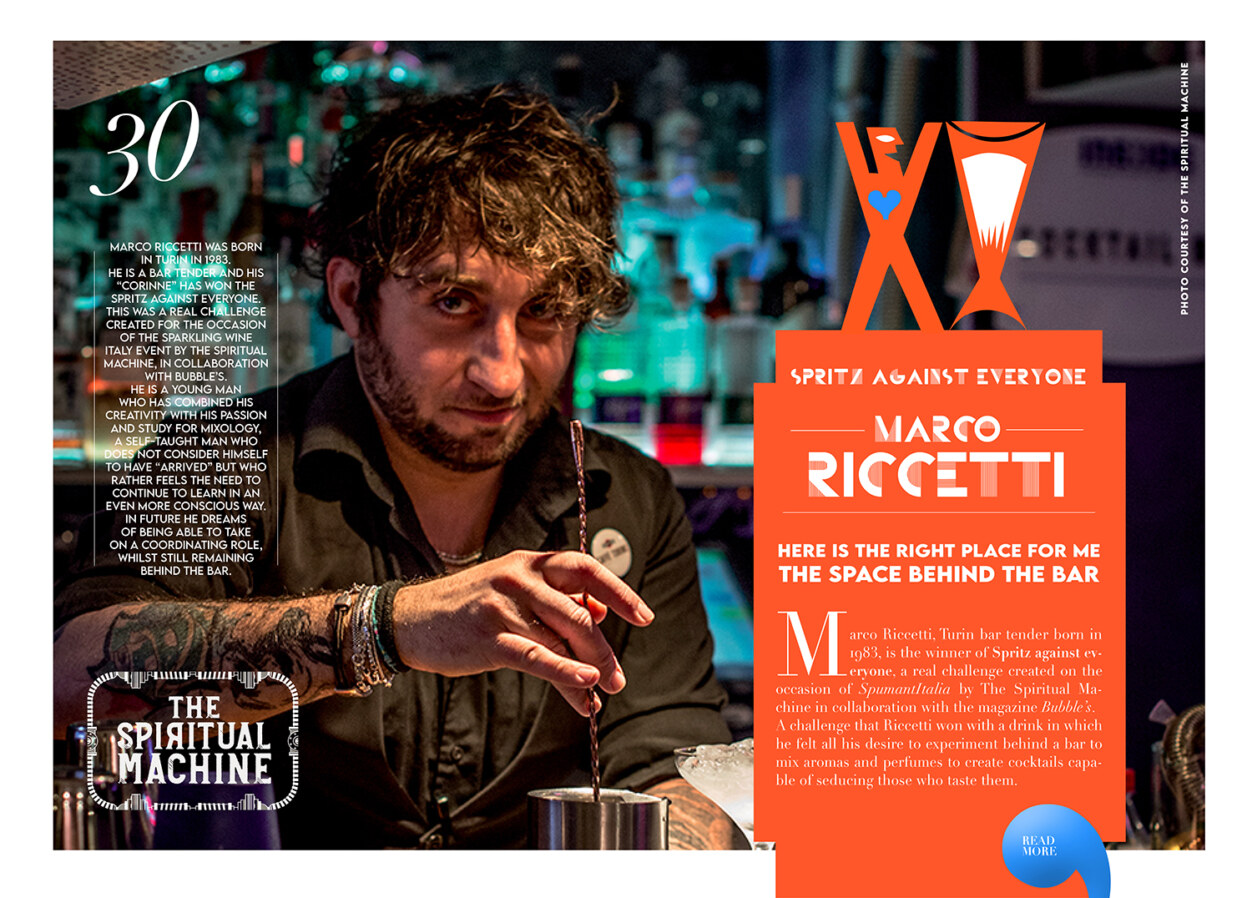 Spritz against everyone
Here is the right place for me. The space behind the bar
Marco Riccetti was born in Turin in 1983. He is a bar tender and his "Corinne" has won the "Spritz Against Everyone". This was a real challenge created for the occasion of the Spumantitalia event by The Spiritual Machine, in collaboration with "Bubble's". He is a young man who has combined his creativity with his passion and study for mixology, a self-taught man who does not consider himself to have "arrived" but who rather feels the need to continue to learn in an even more conscious way. In the future he dreams of being able to take on a coordinating role, whilst still remaining behind the bar.
Marco Riccetti, Turin bar tender born in 1983, is the winner of "Spritz against everyone", a real challenge created on the occasion of Spumantitalia by The Spiritual Machine in collaboration with the magazine "Bubble's". A challenge that Riccetti won with a drink in which he felt all his desire to experiment behind a bar to mix aromas and perfumes to create cocktails capable of seducing those who taste them. However, Marco is unable to identify the precise beginning to his mixology vocation: «I couldn't say where this passion of mine, which later turned into work, comes from. I have always liked to go out in the evening, alone or with friends, and have an aperitif. However, whether it was in my free time or in my professional activity as graphic designer in advertising, when a drink was placed in front of me I couldn't help but ask why it had that particular name and what the ingredients were. Perhaps this curiosity was the initial stimulus to learn and study as much as possible about the world of drinks, until I reached the bar world.
«The common theme in your life then – I suggest – is creativity: creative graphic designer, event organizer, barman. All areas in which creativity plays a leading role. Don't you think?»
I realize that he is keen to clarify: «Yes, creativity is undoubtedly key for me, but it's not everything. A bit like in the kitchen, even in the world of mixology it is necessary to delve further and study. And I'm not just talking about what we learn through the history of spirits and drinks, but also about what we discover standing at the bar. There I have been able to meet competent professionals and knowledgeable customers who have helped me grow with their observations regarding the drinks I have served them from time to time. This has been very useful to me, to help me become more in tune with the world of cocktails, to discover the different products they are made of, in some cases closely observing their production, getting to know the main players, experiencing first-hand the social contexts in which they were created. And so I discovered that drinks are experienced very differently according to their context in that they are also a cultural expression, when we still seem to focus too much on the dimension of the buzz».
«And the Spritz, what does it have to do with all of this? Or maybe it is relevant, as a drink that has been able to bring people closer to the world of mixed drinks».
"The Spritz, let me tell you, certainly has the substance you are talking about. But now a lot of confusion has been created around this symbol. There is no doubt that its image as an Italian drink has grown and consolidated, thanks also to its immediate drinkability. Then again, if television and advertising have on the one hand conveyed a winning image of our local drink, on the other hand they have profoundly altered its identity, making it very different from the original. So the Spritz – let's face it – has become something of a mess: certainly a drink, but extremely difficult to frame if you don't know it thoroughly.
It was partly to try and "create some order" that, in the context of SpumantItalia, I participated in "Spritz against everyone" organized by "Bubble's Italia Magazine" and The Spiritual Machine.
And my "Corinne", a reinterpretation of the Spritz and dedicated to the absolute woman who always remains a part of you, must have convinced the jury, who judged it as the best drink created during this competition».
"If you finished first it means you have talent. Do you consider yourself a professional or do you think you lack something to really be one?»
«I believe I work with awareness and meticulousness, even if I consider myself more vocational than professional. Of course, in the end, I am aware that I'm self-taught. This does not mean that I did not take courses and masterclasses to learn and improve, following the evolution of this decidedly dynamic and stimulating world very closely. What I lack, however, is a reference figure, a barman to look at as a master, perhaps even a "tradition" in which to feel rooted and from which to start to take new paths. I have always done things by myself, I have always had one-off experiences, but now I understand the whole limit of this fact. I realize that my cards could have been played better if I had learned to make drinks in a five-star hotel, with an experienced barman, learning on the one hand to have a rigorous and punctual relationship with the world of drinking and on the other to be in public and to relate to a clientele that is always diverse, and with needs that are not at all identical. For a barman the point of contact is not so much the customer of his city, but the Jamaican, the New Yorker, the Congolese, the Australian, the Chinese. It is they who, traveling the world, know how to make a Negroni. And with a client of this type, if you mess up, you mess up. And that's that!
«Are you telling me that your creativity, while fertile and capable of asserting itself, seems to lack a solid foundation at this moment?»
«I'm telling you that I don't consider myself an accomplished person at all and that, in this specific moment, I feel the urge to grow further and to do it in an even more deliberate way. My relationship with the world of drinks had its impelling moment in a season of work in Apulia in the concept-bar of some friends. Here in the evening, after spending my day doing tattoos, I began to become familiar with the world of drinks and mixology. Fortunately for me this place, which also served as an ice cream parlor, as in many seaside towns, was of a very high standard. And yet there was no shortage of problems here either.
So I began to think that the barman
craft couldn't be done without being rigorous and following precise criteria.
This first switch, in addition to making me understand that I liked this job, led me to follow a cocktail bar in New York more closely, whose drinks have always intrigued me. Destiny would have it that the two barmen of this establishment, winners of local and international competitions, came to Italy to do a three-day master's degree. Of course, I signed up and went. And there, realizing that things were not at all as I had believed, a new horizon opened up in my cocktail research. A change of gear that pushed me not so much to do better, but to do well. Which, compared to what I see around, is already a lot».
«And do you already have an idea
where this push will take you?»
«Frankly, no. Indeed, at this moment in my life I also feel rather confused. But I think I understand that what I want to do on a professional level is be a bar manager. A coordinating role that I would like to do standing behind the bar, contrary to what usually happens. I believe that this work cannot be done without contact with people: the relationship that is established with the customer while you make him a drink, the pleasantly chaotic atmosphere that is created when a thousand orders arrive, each one different from the other. Of course, there is also the aspect of staff training and coordination, obviously crucial for the effective management of an establishment. And yet, once the team has been created, I believe that the bar manager cannot sterilely guide it from the outside. The manager must take part, be part of it, and experience the typical turmoil of a bar counter firsthand. For me it is always exciting to be behind the counter, a meter and a half from the crowds, having your own space in which to grind and mix, checking out what is happening on the other side and taking part, even with just a look or a quip, where needed. Here behind the bar is the right place for me! ».